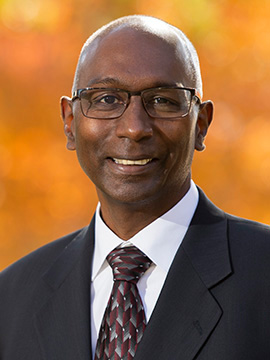 President
Email
president@hesston.edu
Office
Alliman Administration Center
Affiliated Departments or Programs
Education
A.A., Hesston College, 1987
B.A., Goshen College, 1991
M.A., Fuller Theological Seminary, 1999
Ph.D., Fuller Theological Seminary, 2007
In Addition …
Joseph A. Manickam, Ph.D.
Joseph was born in Chiang Mai, Thailand to Paul and Mano Manickam, missionaries sent by the Church of South India to Thailand in 1958. The youngest of six children, he grew up in a family deeply committed to seeing God's love translated into the local context crossing social barriers of many forms. During these formative years, cultural swinging was an assumed way of life for the Manickam family as they continually swung between a South Indian home, a western school system and living among the Thai people. Joseph's high school years began at a boarding school in South India named Kodaikanal International School. These years marked a return to some of his familial roots in South India where much of his extended family still reside. He completed his high school at Hoover High School in North Canton, Ohio, where he earned a certificate in their automobile mechanics program. In 1985, Joseph attended Hesston College where he encountered an Anabaptist perspective on the biblical narrative for the first time. Though he majored in automotive technology, his greatest transformation during these academic years was a spiritual transformation toward a deeper understanding of God's love as demonstrated by his instructors and classmates. The years at Hesston College proved to be time when a Gospel ethic of nonviolence took root in his worldview. This perspective would be further crafted and tested during his years at Goshen (Ind.) College as the United States entered into its first Iraq War. After completing his studies at Goshen College, Joseph returned to Hesston College to join their admissions department. This appointment offered him the opportunity to travel the country where he encountered the larger Mennonite church in the United States in its various shapes and forms. In particular, his encounter with urban Mennonites and Mennonites living on the margins of society captured his imagination of the power of the Anabaptist story to transform broken relationships. Joseph and Wanda Wyse were married in 1994 in Yoder, Kansas. At the time, Wanda was working with the Sedgwick County Health Department. In 1996, they moved to Southern California where he began his graduate studies at Fuller Theological Seminary in Pasadena. Joseph joined the staff at the Center for Anabaptist Leadership which provided him a platform to connect with Anabaptist minded congregations in the Pacific Southwest. These encounters further shaped his understanding of diversity within the Mennonite churches as the vast majority of members were first generation Mennonite. These transformative relationships were foundational to his doctoral studies and continue to shape his thought and faith today. It was also during this chapter in Southern California that Wanda and Joe's daughter, Faith, and son, Matthew, were born. The Manickam family moved to Lancaster, Pennsylvania, in 2005 where Joseph took up a position with Mennonite Central Committee (MCC) as their area director for East Asia Program in their International Program department. This position would later morph into the area director for Asia Program. During these years in Pennsylvania, Joseph's travel throughout Asia connected him to the pulse of the global church which often found itself in a complex religious environment – an environment where a person's vibrant faith could manifest itself with unimagined colors. He also discovered that it was in this context that a genuine Gospel ethic of peacebuilding was relevant and could flourish. In 2012, following the administrative restructuring of MCC, the Manickam family moved to Chiang Mai, Thailand, where for three years Joseph and Wanda took part in establishing the MCC Asia Regional Office. Joseph then directed the Institute of Religion, Culture and Peace (IRCP) at Payap University in Chiang Mai, Thailand and served on faculty with the Peace Studies department for two years.
Academic Regalia
In 1893, an intercollegiate commission presented a uniform code for caps, gowns, and hoods to be worn by graduates from colleges in the United States. The mortarboard caps are the same for doctoral, master's and baccalaureate degrees, except that doctoral caps may be tams made of velvet and may have a gold tassel. The gown worn for the bachelor's degree is marked by pointed sleeves, reaching to the knee, while the sleeve of the master's gown is squared at the ends and longer. The doctoral robe is the fullest, with rounded bell-shaped sleeves marked by three velvet stripes.
The greatest symbolism of the academic regalia is shown in the hood, which identifies the level of the degree, the department of learning in which it was earned, and the institution which awarded it. The size of the hood, its shape, and the width of its velvet trim identify the level of the degree, with doctoral hoods being the fullest, widest, and longest. Faculty colors indicate the department.
Colors you may see represented in today's processional are: blue for education, copper for economics, drab (a dull, light brown) for business and accountancy, brown for dramatic and fine arts, orange for engineering, purple for law, lemon for library science, pink for music, apricot for nursing, dark blue for philosophy, sage green for physical sciences, citron for social sciences, scarlet for theology, science gold for physics, math, and environmental science, gold for psychology, and white for sociology, history, and English, among many available. The colors are mandatory on hoods, but may also be used on tassels and on the velvet on doctoral gowns.
The university or college is usually identified by the color of the hood lining. Two colors are frequently used, since there are approximately 2,000 degree-granting institutions in the United States. If one has multiple degrees, the rule is that only one hood and one discipline color is worn.
Related Links