Relive Larks Virtual Homecoming 2020
Homecoming has always been a time to celebrate, remember, and reconnect with the Hesston College community. This year is no different! Relive VIRTUAL Homecoming 2020 through videos!
Saturday September 26, 2020
Webinar Schedule
9 a.m. – Morning devotional with campus pastor Micah Hurst

9:05 a.m. – Morning Joe with Joe

Join President Joseph A. Manickam for your morning coffee time. He will introduce the Hesston College vice presidents and together discuss a variety of topics including new four-year programs, the continued roll out of Vision 2025, how the college is navigating challenges associated with COVID-19 and any questions you may have for the group.

10 a.m. – Break

10:10 a.m. – 50 Years of Flying Larks

Join Aviation Program Director Mike Baker and others for an aviation program update. Hear reflections of the program's 50-year history, learn about the current opportunities and challenges within the program and industry, what fundraising efforts are happening related to Hesston aviation, and how the first senior class of Hesston Aviation is doing.
Class Reunions
This year truly everyone has the opportunity to be a part of their class reunion! Register for your virtual reunion and enjoy catching up with classmates from the comfort of your home.
Academy classes
1960 – 1:30 p.m. – class letter, class photo

coordinator: Faith (Landis) Wenger
College classes
coordinators: Ivan and Twyla (Selzer) White
coordinator: Gerry Selzer
coordinators – Sharon (Nafziger) Gehring and Phyllis (Miller) Weaver
coordinator: Denise (Stuckey) Birky
coordinator – Sharon (Ross) Woodward
College classes, continued
coordinators: Aaron Diller and Anthony and Angie (Moyer) Swartz
coordinator: Rachel Swartzendruber Miller
coordinators: Megan Gerber and Tyler Stutzman
coordinators: Kassidy (Yeackley) Froese and Liz (Miller) Linscheid
coordinators: Megan Baumgartner, Dusti Diener and Makenna Grow
Looking for something to break the virtual ice? Try one of these prompts:
Who were the Hesston College people, what were the experiences, and what were the courses that have made the biggest impact on your life?
What are three life highlights since attending Hesston?
What has been your primary line of work, career or profession?
Homecoming 2020 Care Package
All college students love to receive a good care package! To help you celebrate from home, the college is offering HC Homecoming 2020 Care Packages! Your customized care package will include gifts, games and more. Whether it is your reunion year or not, the college always loves to connect with our alumni during Homecoming. This care package is designed to bring a little bit of that Homecoming experience to you at home. While wearing your new alumni T-shirt, you can play the campus tour game to learn about the many enhancements on Hesston's campus, reminisce about your Hesston Experience while exploring the HC Memory Envelope, browse pictures from your past and take part in traditional Homecoming activities while sipping some Lark Blend coffee.
Wishing you could participate in the Homecoming golf outing or the Manickam Mosey? The HC Virtual Homecoming goes beyond the screen! Play a round of golf at your favorite course or take a two mile fun run or walk on your favorite route (or even on your basement treadmill). Then share your experience and pictures at #LarksHomecoming2020. Participants who sign up will receive a message of encouragement from some special Larks to cheer you on!
Homecoming Care Packages are $30 and can be ordered through the online registration form. These are open to anyone!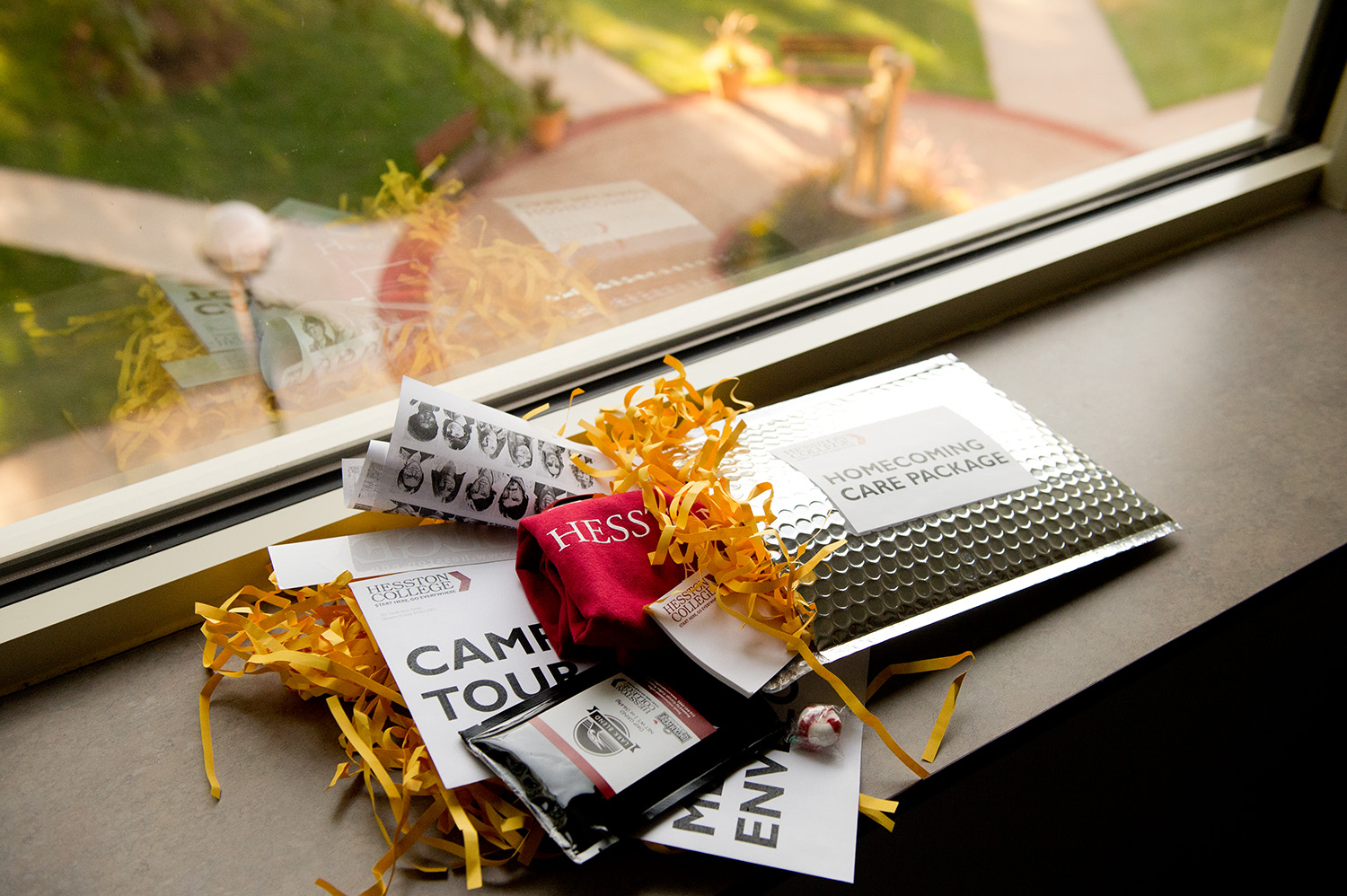 We hope to see you in person in September 2021
We are already looking forward to hopefully celebrating Homecoming in person with you next year! During Homecoming 2021 we will invite the reunion classes from this year as well as next back to campus for reunions. Our Aviation program will also be featured as we will celebrate 51 years of the program!