Perhaps the most surprising aspects of the Hesston experience are the diverse backgrounds our students represent and our impressive number of international students. Our student population of about 420 includes representation from 20 countries, 32 states and 25 religious affiliations – a very uncommon and healthy mix of people that contributes greatly to the quality of a Hesston education.
No matter where you come from, you'll find the majors , the student groups and leadership opportunities, the financial assistance, and individualized guidance on things like housing, finding a campus job, and getting oriented that will make your transition very smooth and enjoyable.
Important Characteristics of Hesston College
Two-year private college
Founded in 1909
Dormitories and cafeteria
More than 50 majors for transfer
Students can earn the Associate degree or the Bachelor of Science in Nursing (BSN) degree
Highest scores in the U.S. among two-year colleges in support for learners and student-faculty interaction
Location
The small, intimate nature of the college and community of Hesston, Kansas, is complemented by the excitement, resources and opportunities afforded by nearby Wichita and its population of more than 300,000.
The Hesston College campus sits on about 50 acres (20 hectares) and is comprised of 13 well-equipped academic, residential and recreational buildings.
While the town of Hesston is a safe, relatively quiet community, the campus comes alive through formal and informal activities every day.
Hesston College will provide an environment which is conducive to your academic success.
Personal Attention and Support
At Hesston, there is one faculty member for every 9 students, and the average class size is 16. So you will enjoy very personal attention from your professors. Further, in a small college such as Hesston College, relationships with fellow students form quickly and often last for a lifetime.
As a student at Hesston, you will be guided through all aspects of the admission process, as well as issues related to financial aid, housing and orientation. Also, there are many student clubs and organizations at Hesston, some of which have been formed specifically for international students.
Hesston College will expect you to study hard, but we will also provide individual assistance if needed. We will help you succeed. Meet the international student support staff
Transfer Options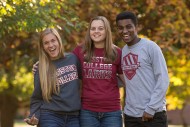 Most of the international students at Hesston College, as well as the U.S. students, transfer to four-year universities. More than 70% of international students at Hesston College transfer to four-year universities all across the U.S. In the past ten years, international students at Hesston College have transferred to more than 66 universities in 28 states.
Hesston College will provide an excellent foundation for your transfer program of study and will assist you in the transfer process.
Affiliation and Accreditation
Hesston College is affiliated with Mennonite Church USA, a Christian denomination.
Hesston College is fully accredited by the Higher Learning Commission of the North Central Association of Colleges and Schools.
Climate
Summers in Kansas can get hot, but are usually dry and less humid. Winters are relatively short, with brief intervals of snow and intense cold.
General information about studying in the U.S.
The United States government provides a large amount of very useful information about studying in the U.S. on the Study in the States website.
Contact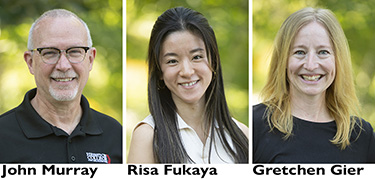 We encourage you to contact us directly if you have any questions that aren't addressed in this section of our website. Our International Admissions staff includes John Murray, director, john.murray@hesston.edu, Risa Fukaya, international admissions and support counselor, risa.fukaya@hesston.edu and Gretchen Gier, international student support coordinator, gretchen.gier@hesston.edu.
Write to
International Student Admissions Hesston College P.O. Box 3000 Hesston, KS 67062-2093 U.S.A.
Phone – 620-327-8133
Fax – 620-327-8300
Email – international@hesston.edu or john.murray@hesston.edu
Hesston College information in other languages:
Chinese, Korean, Bahasa Indonesian, Spanish
Students from around the world choose Hesston because of the intimate, supportive, and engaging environment they find.