Send us your leaders so they can thrive from the START.
At Hesston College, students have leadership opportunities as early as their first and second years.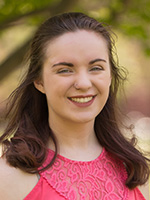 "I didn't expect to be given so many opportunities to be involved on campus. A perk of Hesston is that students get leadership roles as early as freshman year. I enjoyed taking advantage of all the opportunities that fit my interests and talents. They all helped me grow as a person, and have given me valuable experience."
– Leah Huyard (Harrisonburg, Virginia), class of 2019
Hesston College students and alumni often speak to the way in which their Hesston Experience helped to shape and grow their leadership abilities. So much of this is because Hesston students are offered leadership experiences from the start of their college experience instead of waiting until their junior and senior year. These early experiences help them discover their passions and gifts. Hesston students go everywhere with the confidence and experience to be a successful leader in their careers, communities and churches.
High school guidance counselors and pastors can nominate up to three junior or senior students (who will graduate in 2023 or 2024) in whom you see natural leadership gifts. These don't have to be students who are considering Hesston at this point.
Prospective students referred for a leadership scholarship by their high school guidance counselor or pastor will
Be informed of their referral by their admissions counselor
Be offered a $1,000 Leadership Scholarship upon applying for admission
Be invited to Hesston College's Lark Leadership Day in the fall of their senior year where they will increase their Leadership Scholarship award by an additional $1,000
Have opportunities for further leadership training when they choose to START HERE
Leadership opportunities at Hesston College include:
Academic Leadership Program
Honors Program
Resident assistant
Ministry assistant
Peer mentor
Formation (formerly Chapel) Planning Committee
Athletic team captain
Choir soloist
Lead in the plays
Writing assistant
Peer tutor
Bible study leader
Athletic team manager
Student Ambassador
Campus Worship leader
Club leader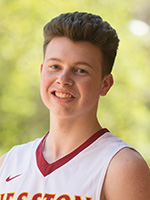 "I was able to balance academics and an internship with playing on the basketball team. It's a lot on the plate at one time, but with the leadership skills I gained, it was well worth it."
– Cal Hartley (Benton, Kansas), class of 2019