Asking "what is there to do at Hesston College?" is a pretty silly question, but you'd have to have been here to know that. Our student body is as active, engaged, and fun-loving as you'll find anywhere.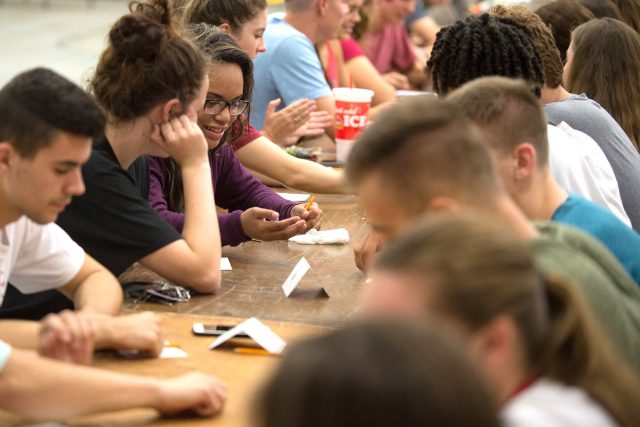 Campus Activities Board
Most of the planned activities on campus are organized by the Campus Activities Board (CAB)—which is student run. Throughout the year the CAB coordinates movie and game nights, coffee houses, Feast of Carols (our winter formal) and more.
Art
Each year students enjoy a variety of gallery exhibits and displays, sometimes featuring the work of Hesston alumni and faculty. Shows typically feature architectural displays, ceramics, drawings, graphic designs, illustrations, paintings, prints, sculptures and photographs. And the Annual Student Art Exhibit features the work of students, the culmination of a year's work.
Music is a very big deal at Hesston. Our main choirs—Bel Canto Singers, Women's Chorus and Men's Chorus—perform locally and at major campus events, as well as on extended tours during breaks throughout the year. European Chorale forms every other year for an extended tour after the end of spring term, spending more than three weeks in Europe.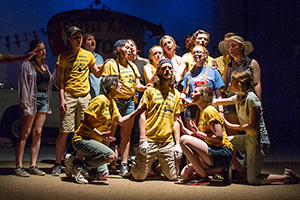 Students at Hesston take part in a variety of theatrical productions throughout the year…acting, directing, choreographing, building the sets, designing costumes and makeup. Recent productions include Big Fish, The Misanthrope, Hands on a Hardbody, And they Dance real slow in Jackson and A Year with Frog and Toad. Pen to Paper to Performance, one of the highlights of every theatre season, is Hesston's own festival for original 10-minute plays and your opportunity to have a play you wrote be selected for performance. On top of that, the Hesston-Bethel Performing Arts Series schedules five events during the year with world-renowned performers.
Service
A big part of our mission at Hesston is to serve the world around us—whether it's in our own backyard or half a world away. Students have a number of volunteer service opportunities to choose from, related to mission, service and peace. Many of these are arranged through Campus Ministries, and include prison and hospital ministries, grandparent adoption, Big Brother/Big Sister programs, Mennonite Disaster Service, and Mennonite Housing.
Recreational Facilities
For a school our size, the number and quality of recreational facilities at Hesston is really pretty remarkable.
Yost Center houses two hardwood basketball and volleyball courts.
The Campus Activities Center offers basketball courts, volleyball courts, an indoor soccer pitch and a weight room.
Outdoor facilities include four lighted tennis courts, soccer fields, a baseball diamond, a lighted sand volleyball court and a disc golf course.
Dyck Arboretum features a scenic, half-mile paved path that is great for walking, jogging and rollerblading.
Special Events
Throughout the year, a number of cool, exciting annual events take place, including:
Mod Olympics
Alumni Homecoming Weekend
Christmas Festivities
Grandparents Day
Commencement Weekend