Eligibility for Participation
Participation is reserved for Hesston College students in good academic and social standing.
Participation is limited to students who participate in Hesston College Men's or Women's Chorus or Bel Canto Singers during the 2019-20 academic year.
Participants must enroll in the course Hum 240: European History and Fine Arts.
Course Requirements
Participants attend Fine Arts lectures (weekly) and choir rehearsals (daily, M-F) following spring break 2020.
Participants will also complete Hum 240 course work, including written and oral presentation of a research project related to the tour.
Participants will keep a travel journal.
Cost
$2,400 (estimate)
Total includes:
Bus travel through Europe
Museum tickets
All lodging and a stipend for all meals
Other expenses not included in total:
Airfare
Passport
Transportation to/from Kansas City or other airport of departure
HUM 240: International Tour – $150 for 3 credit hours

Highlights
May 19 to June 9 – A total of 22 days (includes two travel days)
Four countries: Netherlands, Germany, Switzerland, and France
15 days in the homes of European hosts in nine different communities
13 concerts in a variety of churches, old and new
Cities such as Amsterdam, Hamburg, Leipzig, and Zurich
Seeing examples of Romanesque, Gothic and Baroque architecture of some of Europe's greatest cathedrals
Visiting some of the world's greatest museums
Seeing sites and hearing stories of Anabaptist Mennonite history
Hiking in the Swiss Alps
Sample Itinerary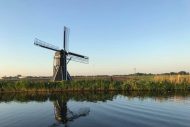 16 May, Saturday – Perform Bon Voyage Concert at Hesston Mennonite Church.
17 May, Sunday – Hesston College Commencement
19 May, Tuesday – Leave for Europe! Fly to Amsterdam in the Netherlands.
20 May, Wednesday – Arrive at Schiphol Airport, Amsterdam. Later in the morning, visit Zaanse Schans, an open air museum. In the afternoon, travel to Haarlem for the first of three nights with host families.
21 May, Thursday – Spend the day in Amsterdam with tours of the Anne Frank House and Singelkerk, as well as a canal boat tour. Rehearse for the evening concert at Aalsmeer Doopsgezindekerk.
22 May, Friday – Attend the morning flower auction in Aalsmeer before going to Amsterdam to the Rijksmuseum. Return to Haarlem for lunch and a visit to Cathedral of St. Bavo. Present the evening concert at Haarlem Doopsgezindekerk.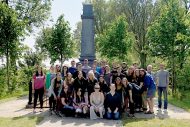 23 May, Saturday – Travel over the Afsluitdijk into the province of Friesland. Visit Menno Simon monuments in Witmarsum and Pingjum, and then travel on to Joure for an evening concert at Joure Doopsgezindekerk. Stay in host homes for the next two nights.
24 May, Sunday – Attend morning worship with the church in Joure. The remainder of the day will be scheduled by hosts.
25 May, Monday – Depart for Germany, arriving in Espelkamp by noon. Espelkamp is a town founded after WWII and home to several Mennonite churches, many founded by immigrants from the former Soviet Union. Perform an evening concert, and enjoy overnight hosting by the Mennonite congregation.
26 May, Tuesday – Travel to Hamburg, stopping at the Bergen-Belsen Concentration Camp enroute. Arrive in the late afternoon to meet hosts for the next two nights. Present a concert at Kreuzkirche Wandsbek, Hamburg.
27 May, Wednesday – Spend part of the day in Hamburg. Following this, drive about an hour to explore the historical city of Lübeck where we also hope to perform an evening concert. Return to Hamburg for overnight
home stays.
28 May, Thursday – Travel to Leipzig, home to composers Johann Sebastian Bach and Felix Mendelssohn. We will also drive to nearby Halle. The lodging for the next two nights will be at a hotel.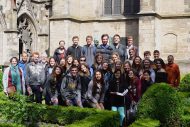 29 May, Friday – Take part in a tour of Leipzig, including Bach House Museum and the Nikolaikirche. In the evening, attend Cantata service in the Thomaskirche.
30 May, Saturday – Travel to Ingolstadt, arriving by early afternoon. The evening concert will be at Ingolstadt Mennoniten Gemeinde. The next two nights' lodging will be in the homes of our Ingolstadt hosts.
31 May, Sunday – PENTECOST – Perform a 45-minute Sunday noon concert at Asamkirche, a Baroque church in Ingolstadt.
1 June, Monday – Depart for Switzerland, traveling to Langnau im Emmental, home of the oldest continuous Mennonite church in the world. We will present an evening concert there and enjoy staying in host homes.
2 June, Tuesday – In the morning, we will travel to Zurich for an Anabaptist history tour and lunch, followed by a communion service in an Anabaptist Cave near Bäretswil. We will then head to Wattenwil to perform a concert at the Reformierte Kirchgemeinde Wattenwil-Forst. Overnight in host homes.
3 June, Wednesday – Visit a chocolate factory in Wattenwil, and then travel to Amsoldingen for a recording session. Present an evening concert in either Amsoldingen or Blumenthal. Following the concert, return to Wattenwil for lodging with host families.
4 June, Thursday – Depart Wattenwil, and travel to the Berner Oberland and the mountain village of Wengen. The next two nights we will stay at the historic Hotel Falken.
5 June, Friday – Enjoy a full day of hiking and relaxing in Wengen, at the foot of the Jungfrau Mountain.
6 June, Saturday – Depart Wengen in the morning. After riding the train down into the valley to meet our bus, visit Trümmelbach Falls, the largest accessible glacial water falls inside a mountain in Europe. Have lunch in Interlaken and then travel into the Jura Mountains to village of Moron. Perform concert at the Mennonite church, followed by home stays.
7 June, Sunday – Attend morning worship service at Moron Mennonite Church. Then travel to Mulhouse, France for an evening concert and home stays.
8 June, Monday – Travel back to Amsterdam, Netherlands, arriving by evening. Spend the night at a hotel near the airport.
9 June, Tuesday – Fly back to U.S.