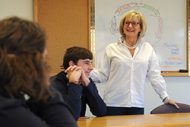 This unique career testing program is currently a 'Hesston College EXCLUSIVE'. With it you can identify your Bulls'Eye CareerTM. It is offered by TestEts.com at a 15% discount to all Hesston students. Includes three assessments and five individual consultations with a career expert. Costs less than a 1 credit course. Takes the trial and error out of choosing a career. Yes, you can "Know What to Be With Certainty"…. Get your discount coupon to start.
My Next Move is sponsored by the U.S. Department of Labor with loads of up-to-date career information. Select "Tell us what you like to do" to reveal your three letter Holland Code and a list of occupational options which match your interests.
A nationally recognized source of career information, designed to provide valuable assistance to individuals making decisions about their future work lives. The Handbook describes what workers do on the job, working conditions, the training and education needed, earnings, and expected job prospects in a wide range of occupations.
Revised fourth edition, as supplied electronically by the US Dept. of Labor, provided, as a public service.
A comprehensive resource for career exploration and planning that allows users to quickly find the valuable career information they need, whether it's industry and professions articles, school planning resources, or skills and career advice. The material draws from a range of authoritative sources, including Encyclopedia of Careers and Vocational Guidance.
Provider of information and solutions for professionals and students who are pursuing and managing high-potential careers. Delivers the timely and actionable insider information and advice that allows them to define and achieve personal success at every stage of their careers. Includes information about jobs, resumes and cover letters, salaries and reviews, as well as career blogs and videos.
Information on more than 300 careers in 18 different categories.
Free career community that empowers job seekers with jobs, reviews, and salaries, along with hundreds of great career advice articles.  Has the goal of providing transparency in the workplace, a transparency that effectively lets users find happiness in the workplace by getting an inside look at the reviews and salaries for over 100,000 employers.
Explore detailed information on over 1,000 different occupations; match your interests and skills with the career that's best for you; search over five million up-to-the-minute local and national job postings; create professional resumes and cover letters; practice and master interviewing skills; get invaluable tips and advice every step of the way–from your initial search to accepting an offer; conveniently organize and track your job-search progress.
ZipRecruiter is a job search platform that also offers career advice, resume tips as well as salary data. All of ZipRecruiter's resources are free for students! ZipRecruiter is rated #1 job search app on Android and IOS – a great career tool for those who are on the go.