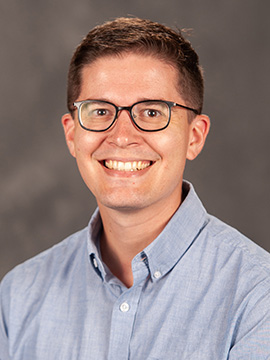 Chemistry Professor
Email
william.friesen@hesston.edu
Affiliated Departments or Programs
Education
B.A., chemistry, Tabor College (Hillsboro, Kan.)
Ph.D. analytical chemistry, State University of New York at Buffalo
Research interests:
Methods development in biological applications of mass spectrometry
Publications:
Friesen WL, Wood TD, et al. Two-Dimensional Graphene as a Matrix for MALDI Imaging Mass Spectrometry. J Am Soc Mass Spectrom. 2015 Nov; 26(11): 1963–1966.
Rudolph HL, Friesen WL, Wood TD. The Hunt for Biomarkers of Autism Spectrum Disorders. J Metabol Sys Biol. 2013;1(1): 11.
Personal Statement
I love being a part of Hesston College because it is an institution that values community where I can know each of my students by name.
Professional Affiliations
Courses Taught
Chem 121/122 General Chemistry I/II
Chem 203/204 Organic Chemistry I/II
PhSc 200 Physical Science
In Addition …
What draws you to the field of chemistry?
The sciences have always fascinated me, particularly the complexities of chemistry and its broad applications. Chemistry is, literally, everywhere!
What about teaching energizes you?
I enjoy helping my students discover the relevance of chemistry in their life and the roles it plays in everything from the reactions that make their own body tick to the climates of distant planets.
What are your favorite courses to teach?
I especially enjoy teaching physical science. Even though it is not a class for science majors, it dabbles in several areas of science and has many opportunities to have fun in class and lab.
Who are your role models or mentors? How have they influenced you?
My undergraduate professor Dr. Bruce Heyen had a way of teaching that radiated his fascination and excitement for chemistry -- that it was not just problems to solve from a textbook, but rather a compelling, intricate and relevant subject to study. I also had the privilege of organizing youth science activities with him, singing in the choir he directed and sharing the piano duet bench with him several times. I think most significant lesson I learned from him is that studying chemistry can be fun!
Related Links