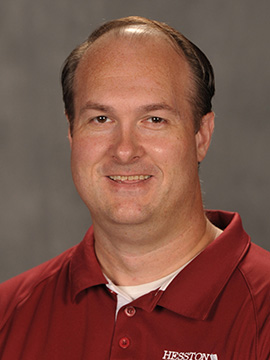 Aviation Professor and Chief Flight Instructor
Email
travisp@hesston.edu
Office
Newton City-County Airport
Affiliated Departments or Programs
Education
A.A., Hesston College, 1999
B.S., Tabor College, 2002

Professional Affiliations
Courses Taught
All flight courses and Commercial Ground School

In Addition …
How did you choose to study Aviation?
I chose to study aviation because for as long as I can remember, I have had a desire to be a pilot. Ever since I was a child, every time I heard an airplane, I would stop what I was doing and look up to try to find it. I still do that to this day!
What about teaching energizes you?
Witnessing first-hand the triumphs and struggles of someone learning an entirely new skill set really energizes me as a teacher. The joyous look a student has on their face after their first solo flight and the challenges I face in finding new ways to present information so each student can understand the material are all things that energize me.
What are your favorite courses to teach? What do you like about them?
My favorite courses to teach are the Instrument and Commercial flight courses because of the increased level of precision and finesse needed to accomplish them. I get to watch a newly certificated private pilot become a master of the airplane.
What advantages do Aviation students find in coming to Hesston?
Coming to Hesston College for your aviation training is advantageous because you will earn all of the pilot certificates and ratings needed to get a job in only two years. You can start working in aviation two years earlier than if you had gone to a four-year school. Most people start out as a flight instructor after they graduate from Hesston College. While you are instructing, you can also be attending school and working toward a bachelor's degree.
Where do alumni go and what do they do after Hesston?
Hesston college Aviation alumni go all over the earth after graduation. We have graduates in virtually every airline, flight instructors all over the country, corporate and missionary pilots flying all over the globe, agricultural pilots, medical transport pilots, banner towing and skydiving pilots and even stunt pilots for major movie studios! Aviation alumni are not only flying airplanes, they are also managing aviation companies, working for aviation organizations such as AOPA and directing traffic all over the United States as air traffic controllers. The possibilities are endless!
Related Links