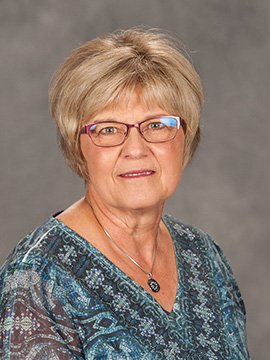 Early Childhood Education Professor and Department Chair
Email
tami.keim@hesston.edu
Office
Laban Peachey Center
Affiliated Departments or Programs
Education
A.A., Hesston College, 1972
B.A., Central Michigan University, Mt. Pleasant, Mich., 1975
Early Childhood Special Education Certification, Associated Colleges of Central Kansas, McPherson, Kan., 1998
M.S., Kansas State University, Manhattan, Kan., 2001
Professional Affiliations
Courses Taught
Educ 200 Introduction to ECE
Educ 201 Teaching and Learning Strategies in ECE
Educ 202 Infants and Toddlers
Educ 207 Early Childhood Environments
Educ 211 Child Health Care
Educ 275 ECE Field Experience
In Addition …
Wrapping God's Youngest Citizens in Hope - a presentation on children and media for Phoenix 2013
Reading Horizons Online Workshop
Building Faith, a Mennonite Early Childhood Network resource
What draws you to the field of education?
One of my greatest fulfillments is helping others grow and develop. Watching the "light bulb go on" for a child in the preschool or a college student in the classroom is exciting and spurs me on to continue my efforts.
How did Hesston shape you as a teacher?
My interest in working with young children was first ignited during my own student years at Hesston when I took several courses just to explore psychology, sociology, and education.
Describe the early childhood education (ECE) program and its students.
ECE coursework helps students develop a foundation of theoretical understanding upon which they build their practices. We want students to become intentional practitioners who are purposeful in their teaching - they know why they teach as they do and are able to explain their philosophy to others.
I find that frequently students who are especially drawn to working with people; who are fascinated with how people develop and become who they are; who want to serve and nurture others, etc., are the ones who become interested in this field.
What are the advantages ECE students find coming to a two-year college like Hesston?
ECE Students take a variety of general education and education department courses and become involved in the preschool classroom so much during their first two years. Graduates who pursue early or elementary education teacher licensure after Hesston often describe how much they appreciate the extensive experiences they had during the first two years - more than their classmates in the schools to which they transfer.
How do you connect with students in the program?
Because we work together so intensely I feel that I get to know the students who take ECE courses quite well. I really enjoy working with them in the preschool classroom. The program enables a lot of interaction among us and provides the framework for us to function as a team together.
I feel privileged to have many meaningful conversations with students as they explore their personal and career goals. Many are processing so much during their time here - who they are, who they want to become, and what they want to do in life.
What do high school students need to know about Hesston's learning environment?
Most high school students are still learning about all of the career options they have and might want to pursue in life. I believe that the level of individual attention they receive here helps them process and continue to develop their direction. Sometimes students whose interest in children initially caused them to think they wanted to go into education find they want to use what they are learning here to proceed more in the direction of working with children and families in other settings, perhaps pursuing a degree in child and family studies. And sometimes students who initially thought they just wanted one course for a limited exposure to ECE decide to go into it whole heartedly. We'll help you figure out what you really want!
Since we put all of our energy into your first (or, for some students, only) two years of college, we provide a greater variety as well as depth in your experiences.
Related Links