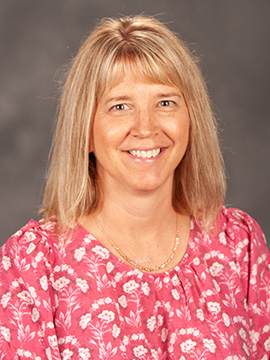 Nursing Professor
Email
sharonw@hesston.edu
Office
Bonnie Sowers Nursing Center
Affiliated Departments or Programs
Education
A.A., Hesston College, 1990
B.S.N., Goshen College, 1992
M.S., nursing, University of Kansas, 2017
Licensure and Certifications
Courses Taught
Nurs 300 - Nursing Foundations I (classroom, skills Lab, clinical)
Nurs 402 - Acute Care Nursing II, clinical instruction
Nurs 408 - Nursing Leadership and Management
Nurs 312 - Healthcare Systems, Policy and Finance
In Addition …
What about teaching energizes you?
I enjoy working with the students as they apply their classroom knowledge to the clinical setting. It's a pleasure to watch ideas and concepts coming together with technical and personal skills as the students relate to their clients. It challenges me in my own nursing practice to be open to new ways of approaching and doing things.
How do you connect with students in the program?
I spend many hours with the students in the clinical setting. This allows me to learn to know them in both personal and professional ways. I have an interest in knowing what led each individual into nursing, and am inspired by their dedication. Making these connections is a big part of why I enjoy my position so much.
How has your background and educational experience shaped you as a teacher?
Since graduating in 1992, I have worked in various healthcare settings, but mostly in hospitals as a Medical/Surgical or Critical Care nurse. Because of this experience, I feel there are many practical ways that I can enhance the students' learning.
Related Links