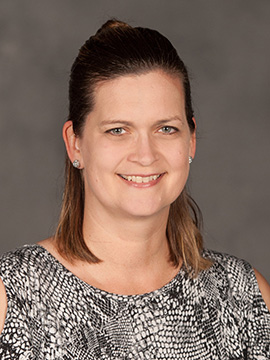 Music Professor
Email
rebecca.schloneger@hesston.edu
Affiliated Departments or Programs
Education
B.M., St. Olaf College (Northfield, Minn.), 1997
M.M., University of Cincinnati (Ohio), 2003
In Addition …
Rebecca Schloneger M.M., began conducting the Hesston College Chamber Orchestra in 2014. She has studied violin since the age of two in Sioux City, Iowa. She received a bachelor of music degree in violin performance from St. Olaf College (Northfield, Minn.) and a master's degree in violin performance from the University of Cincinnati College-Conservatory of Music. Rebecca has an extensive background in violin pedagogy with an emphasis in Suzuki philosophy. She is a Suzuki Violin Instructor at the Bethel College Academy of Performing Arts (Newton, Kan.). Her performing experiences have included Wichita Symphony Orchestra, where she currently performs in the first violin section, Mid-Kansas Symphony Orchestra, Hutchinson Symphony, Dayton Philharmonic, Northern Kentucky Symphony, Susquehanna University Orchestra and is a member of The Sunflower Trio.
What draws you to the study of music?
What drew me to music was the way it felt to be told, "You're good at this," or "That helped me," or "That performance brought me joy," or, from a student, "I did it!"
What about teaching energizes you?
I am energized through teaching when I feel like music has given someone a type of healing and a way to express their own personal voice. I also think that the process of learning an instrument can give people confidence when it comes to how to decipher a challenge and through small steps, accomplish a larger goal.
What are your favorite courses to teach?
My favorite courses to teach are Hesston College Chamber Orchestra because we have fun, and private lessons because I get to know the students more personally.
How has your background and educational experience shaped you as a teacher?
My background has involved playing an instrument as a child, being a leader in my high school in theater and student government, majoring in violin performance at St. Olaf College and receiving a master's degree in violin performance at University of Cincinnati. I got to be a leader, do lots of traveling and learned that there are many good musicians out there.
Who are your role models or mentors? How have they influenced you?
My biggest role models are Dorothy Walker, the first violin teacher I had as a child, and my college violin professor, Charles Gray. Both of these teachers made it known to me that they believed in my potential and both made me work very hard. They taught me that there is no replacement for real work, but also that it's easier to do when someone believes in you.
Related Links