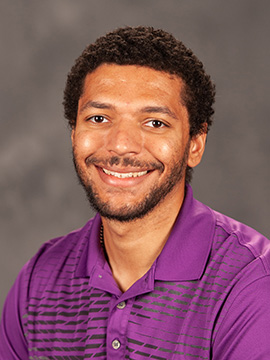 Psychology Professor
Email
navante.peacock@hesston.edu
Affiliated Departments or Programs
Education
B.A., Kansas State University, 2017
M.A., University of Kansas, 2019
Ph.D. candidate, University of Kansas, 2021
Recent Publications
"Propensities to make attributions to prejudice and (mis)perceptions of racism in the context of police shootings" in Personality and Individual Differences.
"Two tales of two protests: Principled and partisan attitudes toward politically charged protests" in Journal of Applied Social Psychology.
In Addition …
Faculty Profile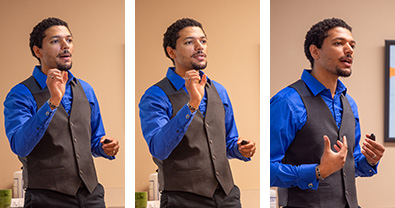 With a background in social psychology, Hesston College's new professor of psychology noticed there was something different about this small campus, even in his first few days. "One of the first things I noticed, even when I was visiting, was the trust, the substance of security," Peacock said. "You'll see longboards and skateboards just out anywhere. It's just that type of place where you can just leave things out and not have to worry about it." In his first semester at Hesston College, Peacock is teaching general psychology, developmental psychology, sociology of families, and conflict resolution, all of which Peacock approaches with a social psychology lens. "What I researched and still continue to look at is prejudice and discrimination, so I'm able to loop that into most of my classes," he said. In his most recent publications, featured in the Journal of Applied Social Psychology and Personality and Individual Difference, Peacock explores themes of racism and prejudice in the context of recent events in the United States, such as the killing of George Floyd and COVID-19. "I'm particularly interested in how people perceive discrimination and prejudice," he said. "Even if there's a certain event that occurs, not everyone is going to interpret it in the same way." Beyond his interest in psychology, Peacock minored in Japanese while an undergraduate student and is interested in gaming, fishing, tennis and golf. At his home, he and his wife run the "Peacock Cafe," boasting a fully stocked coffee bar.
Related Links