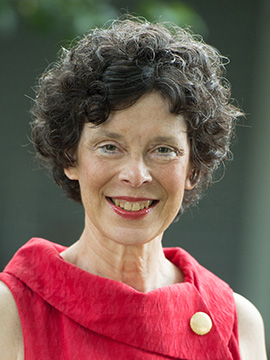 Bible and Ministry Professor and Department Chair
Email
michele.hershberger@hesston.edu
Affiliated Departments or Programs
Education
A.A., Hesston College, 1981
B.A., Goshen College, Goshen, Ind., 1983
M.A.T.S. in Biblical Studies, Associated Mennonite Biblical Seminary, Elkhart, Ind., 2000
Research Interests
Biblical hospitality
Youth ministry and postmodern culture
Catechism practices within the Anabaptist tradition
Drama in the church
Preaching
Major Publications
Now It Springs Up, (with Carol Duerksen and Laurie Oswald Robinson), Willowspring Downs, 2007.
God's Story, Our Story: Exploring Christian Faith and Life, Faith and Life Resources, 2003.
A Christian View of Hospitality: Expecting Surprises, Herald Press, 1999.
articles in various professional and church periodicals.
Personal Statement
I love teaching at Hesston. I get to work with students taking their first Bible class and older students preparing for pastoral ministry. And anytime you open up a safe space for people to talk about what really matters to them — life, suffering, relationships — that space will be rich with meaning and Jesus, the church and the Bible always find their way into these conversations. Every day we struggle with the paradoxes, the tough questions, every day we practice what it means to be the People of God together. And we grow — together. It's a great place to be.
Professional Affiliations
Courses Taught
Relg 100 Biblical Literature
Relg 202 Biblical Studies: Psalms and Epistles
Relg 208 Biblical Studies: Prophets and Revelation
Relg 121 Introduction to Youth Ministry
Relg 131 Faith and Discipleship
Relg 222 Preaching
Relg 224 Christian Education
Relg 228 Youth Ministry Seminar I
Relg 260 Jesus and the Gospels
In Addition …
Church experience
Project Associate for The Giving Project for Mennonite Church USA, 1996-2000
Youth Pastor, Zion Mennonite Church, Hubbard, Ore., 1989-1996
Conference Youth Minister for Pacific Northwest Conference of the Mennonite Church, 1990-1995
Speaker at church-wide conventions for Mennonite Church USA and Mennonite Church Canada including Philadelphia 93, St. Louis 99, Nashville 01, Atlanta 03, Charlotte 05 and San Jose 07, Pittsburgh 11.
Playwright for church-wide conventions, including Oregon 91, Wichita 95, Orlando 97, St. Louis 99, Nashville 01, Atlanta 03
Teaching experience
Head of the Bible Department at Western Mennonite School, Salem, Ore., 1995-96
Adjunct instructor in youth ministry, Associated Mennonite Biblical Seminary, Elkhart, Ind., 2003
Director of Youth Ministry and Chair of the Bible and Ministry Division at Hesston College, 2000-
Taught Introduction to Bible (2 semesters), Christian Education and Intro to Youth Ministry at LCC International University, Klaipeda, Lithuania in 2009-10
Presented an academic paper for "Responses to Cultural Homogeny: Engagement, Resistance or Passivity," an international conference on interdisciplinary research at LCC International University, Klaipeda, Lithuania
What draws you to the field of Bible and religion?
Who could not love the Bible? All those wild stories that don't quite make sense! And what about all those stories that are plain to understand — like feeding the poor — but are hard to live out? I get to participate in an academic field that seeks not only to learn from these sacred texts but to live them out as well. And we get to support each other...learn from each other.
What about teaching energizes you?
I love to think theologically and love doing that thinking with others, especially young adults. In my context, authenticity is a key value and when I can help facilitate a safe space where people are free to be authentic, life-changing conversations happen. It's not enough to just facilitate education. Hesston College is about transformation and I get to be a part of that.
What are your favorite courses to teach? Why are they favorites? What do you like about them?
I love all my courses, even if for different reasons. Some of my students who take Bib Lit (Introduction to Biblical Literature) aren't excited about the class. And then, as the semester unfolds, their body postures change, their eyes get bigger, the questions come pouring forth. They see something they've never seen before. They lean in on the discussions and interrupt each other. They care because the Story, God's story, has something they need. And every semester, I have the privilege of watching that happen. What a joy!
How has your background and educational experience shaped you as a teacher?
Before coming to Hesston College, I served as a youth pastor, a church-wide preacher and teacher on stewardship issues and had written several books on the Christian faith. I also taught in both a secular and Mennonite high school. Finally I have a B.A. in communications, with an emphasis on theatre. All these experiences have shaped me and made me a better communicator and teacher today.
Who are your role models or mentors? How have they influenced you?
When I was a sophomore at Hesston College, faculty member (and my current colleague) Marion Bontrager asked me if I had a call to ministry. I told him he was crazy; I was going to be a famous actress. He has since forgotten this conversation, but I never did. I was sensing a call and his quiet nudging encouraged that call and when times were tough, gave me the courage to continue saying yes to that special calling. So, like Marion, I pray about my students. I listen to the Spirit to see how I can encourage them. I plant seeds, being so grateful for the seeds that were planted in me.
Related Links