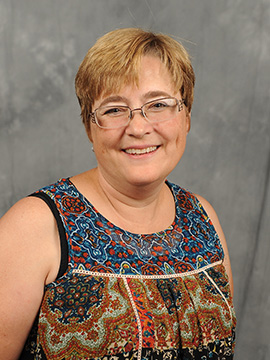 Nursing Clinical Instructor
Email
maureen.entz@hesston.edu
Affiliated Departments or Programs
Education
B.S.N., Bethel College (North Newton, Kan.)
M.S.N., Wichita (Kan.) State University
Licensure and Certifications
R.N., Kansas
A.P.R.N., Kansas
A.A.N.P. Family Nurse Practitioner Certification
National Registry of Certified Medical Examiners
Personal Statement
When in clinicals, I can picture my nursing mentors from many years ago walking me through procedures and asking questions. It was this learning environment which teaches so much more broadly than we expect, and I hope to convey a similar learning experience to these Hesston students.
Courses Taught
Nursing clinical instruction: Nurs 400 and 402 - Acute Care Nursing I and II
In Addition …
How did you choose to study nursing?
Our choice of profession should allow us to do work that we are passionate about and bring a sense of purpose. Nursing for me also allows for nurturing and caring in a professional capacity. I enjoy learning, and this profession brings new insights and challenges every day. I also may have inherited my love of nursing, since my mother was a nurse!
What about teaching energizes you?
Having students understand how concepts in the classroom relate to patients in the hospital setting.
How has your background and educational experience shaped you as a teacher?
I have been employed in Hesston as a nurse practitioner for the past 10 years, and am excited to work with students connecting pathophysiology to nursing care.
Who are your role models or mentors? How have they influenced you?
I have been blessed to work for the past decade in Hesston and have had many medical professionals whom I emulate in living out my faith in this profession. Dr. Hall, the staff at Mid Kansas Family Practice and others, including patients, have been strong Christian role models, leading by example. Gregg Schroeder was actually one of my favorite instructors in my undergraduate degree, asking tough questions and giving comprehensive answers with respect and dignity. I have also had the opportunity to connect with several other of our Hesston College nursing instructors through the past decade, and I'm excited to work with such a talented, capable and conscientious group of educators.
Related Links