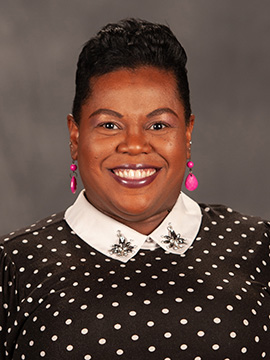 Biology and Environmental Science Professor and Natural and Applied Sciences Division Chair, Student Success
Email
marelbym@hesston.edu
Affiliated Departments or Programs
Education
A.S., Hesston College
B.S., Goshen (Ind.) College
M.S., University of Denver
In Addition …
How did you choose to study biology?
I chose to study biology and environmental science because I feel connected to our natural world and its influence in our everyday lives (from the cellular level to the more complex systems). Natural sciences is an area that might be daunting for a lot of people, but for me it is fascinating and extremely surprising. As humans, our relationship with the natural world is one which has been established over many hundreds of millions of years and I think that in the last few decades humans are starting to understand how to become part of the solution to our world's complex environmental issues. Biology, chemistry and environmental science connect in a way that helps us understand our world and hopefully guide us in ways to preserve it, by developing practical solutions that take into account the impact that we as a society have on our environment.
How has your background and educational experience shaped you as a teacher?
My first official classroom teaching experience was at the age of 13 in Colombia. I went to a special middle/high school where the main focus was to prepare future teachers in classroom management with knowledge in areas ranging from the natural sciences, Spanish and math to physical education. I learned from early on the importance of engaging your audience (your students) through different pedagogical approaches. I learned through my years at this school how valuable it is for a teacher to connect the real world with sometimes difficult subjects such as mathematics, biology and chemistry. After high school I got a job as an elementary school teacher in the small Christian school were I attended for my elementary years. Having graduated from a school that prepared you to become a teacher, I was now applying and practicing everything I had learned and saw during my times as a student teacher. For the following three years I became the teacher of 36 first graders and during this time it was my responsibility to make sure that by the end of their school year these youngsters were ready to face the rest of their elementary school life with passion, discipline and strong academic values. Later on, after continuing my higher education and focusing on my passion for the natural world, I was able to gain experience in a non-traditional classroom setting as a field teacher/naturalist. I was able to do this first with the Catalina Island Environmental Program where I taught marine science, wildlife ecology and environmental education to elementary and high school students. Subsequently I went to work at the University of Rhode Island - W. Alton Jones Campus in their Environmental Education Center where I developed lessons and was in charge of student tutoring and student performance evaluations in the outdoors setting. I learned about assertive discipline techniques and furthered my pedagogical experience in this setting through classes such as wetland, forest ecology, wildlife biology and environmental sustainability. All these different educational settings have provided me with a different outlook on the influence of a positive education and the value of the unique experiences each individual may have and how those experiences shape and enhance who they are and who they can become.
What about teaching energizes you?
The endless source of knowledge that each subject provides not only for my students, but also for me is very energizing. I feel passionate about every subject, I love the learning process that I go through and I try to take my students through that process even when it is labor intensive. I have the opportunity of teaching science courses, which are difficult for some students and I have the chance to help them develop some skills that will be essential in their future careers. Teaching enriches my life and I hope to capture my love for the sciences in my classroom. It is very rewarding to see students overcoming their fear of science through the use of everyday examples, fun and engaging activities and interactive labs at the end of the semester. It makes me feel like together with my students we engaged on a journey to a "new world." There may have been certain expectations and fears at the beginning of the adventure, but somewhere in the process we were able to overcome the odds, to learn and discover this new 'planet' and to enjoy ourselves along the way.
Who are your role models or mentors?
There are a lot of people who have had a big influence in my professional life. From my parents, who taught me a sense of responsibility in everything that you do, appreciation for everything that your are given and passion in everything that you are involved with; to teachers and colleagues who have taught me how to be a better educator in the classroom and outside of it. I think that one of the best ways to describe what every person who has had a positive influence in my life means to me is in the words of Martin Luther King Jr. who said: "The hope of a secure and livable world lies with disciplined nonconformists who are dedicated to justice, peace and brotherhood." It is my job as an educator to not ally myself with injustice and oppression, to dedicate myself and my call to service as a teacher in this world for the benefit of humankind and the pursuit of tolerance, compassion and understanding.
Related Links