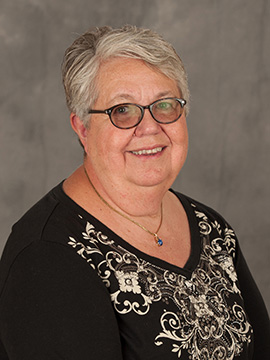 Nursing Professor
Email
lyndel.walker@hesston.edu
Affiliated Departments or Programs
Education
A.D.N., St. Mary of the Plains (Wichita, Kan.)
B.S.N., Wichita (Kan.) State University
M.S.N., Newman University (Wichita, Kan.)
Licensure and Certifications
Personal Statement
Educating new nurses is more than just a matter of filling them up with information. It involves dealing with the whole person. We get to mentor them, encourage them, support them and especially pray for them. I am happy to be at Hesston College where the faculty have an attitude of service toward their students and by modeling this, students are prepared to go out and serve others.
Courses Taught
Nurs 402 Acute Care Nursing II
Nurs 405 Interprofessional Communication and Practice (RN-BSN)
Nursing clinical instruction: Nurs 300, 400 and Nurs 402
In Addition …
What draws you to the field of nursing?
I have been in nursing throughout my adult life. It has brought a lot of meaning to my life through many many rich relationships with patients, colleagues and now with students. I wouldn't choose any other path for my life.
What about teaching energizes you?
I love the opportunity to pass on my learned experience from the variety of nursing settings I have worked in. I love the opportunity to encourage and support students as they pursue the call to nursing on their lives.
What are your favorite courses to teach? Why are they favorites? What do you like about them?
I get pretty enthused about teaching anything related to nursing. I have a passion for nursing and for growing new nurses and doing our best to prepare them for success in their future nursing career. I am especially excited that we are now offering the BSN degree as I believe that nurses require this additional preparation in order to assume their important role in continuing to improve the delivery of healthcare in our nation.
How has your background and educational experience shaped you as a teacher?
I have some wide experience at a number of levels and in various settings in healthcare. This experience helps me to relate to students with different backgrounds and to encourage them to achieve and to reach out for the many opportunities available in our field.
Personal interests and information
My husband and I enjoy camping, kayaking and gardening. We are fortunate enough to have all of our children and grandchildren nearby and enjoy time with them.
Related Links