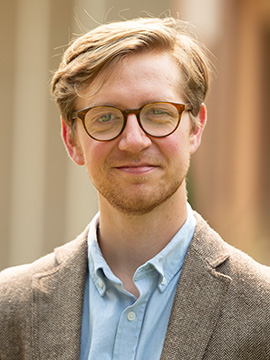 English professor
Email
luke.gilstrap@hesston.edu
Affiliated Departments or Programs
Education
B.A., Friends University, 2015
M.F.A., Seattle Pacific University, 2019
Recent publications
"The Iconographer" in Clearing Paths: A Darkly Bright Anthology of Verse
"First Winter" in Clearing Paths: A Darkly Bright Anthology of Verse
"Am I Apophatic Enough?" in Clearing Paths: A Darkly Bright Anthology of Verse - see below
"Ash Wednesday at the Observatory with Third Graders" in Ekstasis
"Anaphora" in Amethyst Review
In Addition …
Interested in the relationship between theology and art, English professor Luke Taylor-Gilstrap was drawn to Hesston College.
"What I'm most interested in teaching, and what I received as a student, is a holistic approach to writing," Taylor-Gilstrap said.
He cites those at Hesston College welcoming his interests and approach to teaching with "attentiveness" and "empathy," even during the interview process.
Only in his first semester of teaching at the college, Gilstrap is instructing Basic Writing and College Writing classes, as he explores how to help his students better understand their reality through words.
"I want to teach students writing as a way toward healing," he said.
"I take it as a compliment that students feel safe enough in my class to share on heavy topics."
Taylor-Gistrap always uses themes to shape his course content.  is semester, students in College Writing I are focusing on the theme of "home," writing toward an understanding of what "home" means alongside refugee stories and a book of indigenous wisdom. In his College Writing II class, Taylor-Gilstrap teaches the theme of "attention," where students practice writing attentively at the beginning of each class, as well as study readings that help them understand what it means to be attentive to ourselves, each other and the world around us.
Through his personal writings, Taylor-Gilstrap explores some of these same themes. Though he studied fiction in graduate school, he now focuses on poetry and has been working on a novel for the last two years.
"Even as a fiction writer, I still consider myself a poet," he said.
Taylor-Gilstrap's writings allude to his observation of reality and religious questionings. Taylor-Gilstrap, along with his wife, Megan, and son, Oliver, attend St. Mary Orthodox Church in Wichita, Kan., where Taylor-Gilstrap is originally from.
Outside of the classroom, Taylor-Gilstrap expands his interest in art to include jazz saxophone, singing and drawing.
AM I APOPHATIC ENOUGH?
is the question my new Tradition
has groomed me to ask in the same way
before, at little c church, I would ask
if I was old enough to cuss.
And maybe that's the issue here,
age and which one to belong to.
Because mystery, at least it seems,
is what so often pulls and shifts
away from what's in front of me,
while life abides, fits itself
into the seams of the chair
holding my son and me together.
His uncut yellow wisps of hair
are tickling my chin. His hands,
what I am always thinking at,
are sleepily playing with one of mine.
We sit three rows from the podium
in a mostly vacant gym
where the lecturer talks about the nous,
then her own experience in the deepening
of her heart. I heard some, saw more,
her eyes clearer when she no longer knew what to say.
Related Links