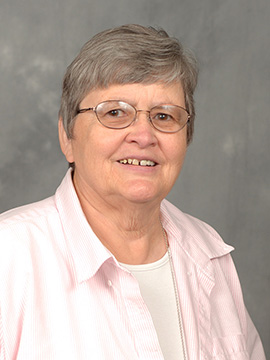 Spanish Professor
Email
lois.omalley@hesston.edu
Affiliated Departments or Programs
Education
B.S.Ed., Pittsburg (Kan.) State University
M.S.Ed., Pittsburg State University
M.A., pastoral studies, Loyola University (Chicago, Ill.)
Graduate certificate in spiritual direction and retreats, Creighton University (Omaha, Neb.)
Ph.D., curriculum and instruction, Kansas State University (Manhattan)
Personal Statement
One of my greatest joys as a teacher happens when the student finally 'gets it' and they are able to continue to learn in order to communicate with a person who speaks a different language and has a different culture but ultimately is simply a member of God's family.
Professional Affiliations
Current member of
Kansas World Language Association
Member of the World Language Advisory Council for KSDE, January 2009-12
Member of CSC Leadership Class for Foreign Languages
Member of the CSC Advisory Council
Member of the KISS-FL committee that wrote the teacher training manual and developed teacher training workshops
Member of the committee that wrote the Kansas Foreign Language Standards
Member of the KFLA Executive Council for 4 years, serving as President for 2
Participant in Foreign Language Conferences—KFLA, CSC, ACTFL
Presenter at KFLA—several years—modern language standards, integrated assessment, differentiated learning, and classroom teaching techniques
Reviewer of articles for the CSC Report
Courses Taught
Span 101/102 Elementary Spanish I/II
Span 201/202 Intermediate Spanish I/II
In Addition …
What about teaching energizes you?
I really love working with young people and helping them move out of their isolation and expand their horizons, their world.
What are your favorite courses to teach?
I really enjoy teaching Spanish 1 and 2. I love to see the students' confidence and abilities grow as they learn to communicate with someone who speaks a language other than English.
How has your background and educational experience shaped you as a teacher?
Every time I travel to a Spanish-speaking country or visit with Spanish-speaking family in this country I realize that we are much more alike than different. They have many struggles trying to provide a better life for their families. It motivates me to help support them, especially in their struggles with the immigration obstacles in this country.
Related Links