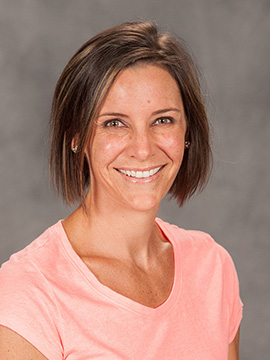 Nursing Professor
Email
kristi.martin@hesston.edu
Office
Bonnie Sowers Nursing Center
Affiliated Departments or Programs
Education
B.A., Pepperdine University (Malibu, Calif.)
B.S.N., Regis University (Denver, Colo.)
M.S.N., Fort Hays (Kansas) State University
Research interests: cultural competence
Personal Statement
I teach at Hesston College because I feel called to be here. There have been a couple of moments in my life where I feel like God destined something specific for me and working at Hesston with nursing students is one of them. I get such joy watching students who have worked tirelessly to achieve something great, walk across that stage at commencement and pinning. I feel like I am a part of something very special.
Professional Affiliations
In Addition …
What draws you to the field of (your discipline)?
I study, teach and work as a nurse. I love helping, caring for and educating people and feel I am gifted to serve. This discipline allows all of the above.
What about teaching energizes you?
The students energize me. Their youth, excitement, determination, motivation and drive inspire me.
What are your favorite courses to teach?
I love being with the students in the clinical setting. Watching them gain knowledge and confidence as they progress through the program is rewarding for both myself as their instructor and them as new nurses.
Related Links