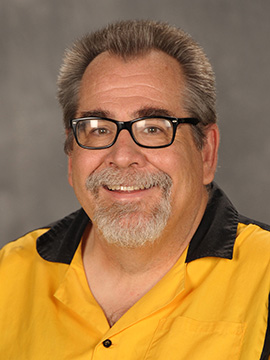 Bible and Ministry, Psychology and Sociology Professor
Affiliated Departments or Programs
Education
B.A., Taylor University, Upland, Ind.
M.A., Friends University, Wichita, Kan.
doctoral student in marriage and family counseling, Denver (Colo.) Seminary
Research interests:
youth ministry with dysfunctional families
family night and family meetings
trust and Marital Satisfaction
Personal Statement
I teach at Hesston because I love the interactions with student inside and outside of class. I also love teaching, because I am a curious person.
Professional Affiliations
ordained minister with South Central Mennonite Conference
student member of The Association of Christian Counselors and American Association of Marriage and Family Therapists
Courses Taught
General Psychology, Developmental Psychology, Positive Psychology, Conflict resolution, Biblical Literature and some youth ministry classes
In Addition …
How did you choose to study youth ministry and psychology?
When I went to college, my professors encouraged me to study what I love. I love God and people, so I have been studying counseling/psychology from a faith perspective through my education.
What about teaching energizes you?
I love it when my students take material from my courses and use in in their life! I love activity and discussion and when students have ideas for assignment and ideas to make the course better.
What are your favorite courses to teach? What do you like about them?
I really love to teach General Psychology because it is a course about the student and almost everything is connected to their first year of college and their life experience.
How has your background and educational experience shaped you as a teacher?
I was in youth ministry and campus ministry before becoming and instructor. I feel like that background gave me some creative methods for teaching and desire to have a relationship with students.
Who are your role models or mentors? How have they influenced you/your life/your faith/your approach to teaching and/or your discipline?
My favorite teacher in college was Dr. Mark Cosgrove at Taylor University. He integrated faith, psychology and literature in all of his courses. We often had to read a novel, the Bible and our textbook for any course. My personal mentors in my faith have been my supervisors when I was in youth ministry and at Hesston College.
More about me:
I am married to Marilyn Wilder, and we have three adult children. We live across the street from Hesston College. I love to ride bicycle, fish and kayak in little lakes in Kansas. I am a member of Whitestone Mennonite Church, and before attending there was a youth and Christian education pastor at Grace Community Church in Newton for 8 1/2 years. I think one of the most formative events in my life was working in a Christian youth center in the inner city of Indianapolis for two years after college.
Related Links