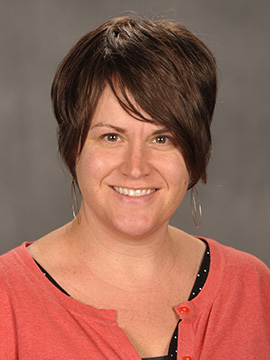 Communication Professor and Humanities Division Chair
Email
kendra.burkey@hesston.edu
Affiliated Departments or Programs
Education
A.A., Hesston College, 2000
B.A., Goshen (Ind.) College, 2002
M.A., Communication, Wichita (Kan.) State University, 2007

Personal Statement
I teach at Hesston because we specialize in the first two years. It's an honor to be a part of that foundational experience for students. I get to see them discover their passions, and I get to help support them as they start to pursue their dreams.
Courses Taught
Comm 111-112 Publication Seminar - Newspaper
Comm 125 Interpersonal Communication
Comm 151 Mass Communication and Society
Comm 206 Speech Communication
Comm 241 Writing for Media
SCS 101 First-Year Seminar
In Addition …
How did you choose to study Communication?
When I was in elementary school I started my own newspaper, "The Third Grade News." I filled it with photos of my friends' pets and handwritten articles about field trips. It was a hot mess, but it inspired a very real interest in journalism that carried me through high school and college. I started recognizing news around me. I started to realize how inventive and colorful feature writing could be. I started to realize how powerful great storytelling can be. I wanted to be a part of that.
What about teaching energizes you?
The world needs great communicators. We need writers who will uncover injustice through investigative reporting. We need photojournalists who can move people to action with compelling images. We need leaders who can comfort and inspire through public address. I'm passionate about helping students find their unique voices in that mix. But it also doesn't matter if you're majoring in journalism, economics or biology - wherever you go, you'll need to be an effective communicator. I'm energized by the incredible versatility of communication as a major. There really is something for everyone.
How has your background and educational experience shaped you as a teacher?
Being Mennonite, I see communication has a nonviolent approach to conflict, whether interpersonal or systemic. It's important to me that students leave my classrooms with the tools necessary to "live a life and faith for service to others in the church and the world," as Hesston's mission statement puts it. That means we spend time in class asking, "Who isn't being heard?" "How can we use our power as communicators to make important changes locally and globally?"
Related Links