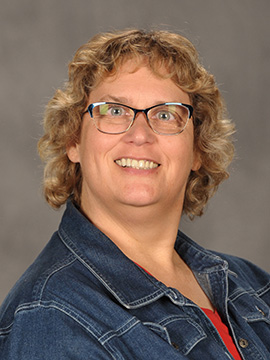 Nursing Professor
Email
karla.stauffer@hesston.edu
Office
Bonnie Sowers Nursing Center
Affiliated Departments or Programs
Education
B.S., Bethel College, 1985
M.S.N., Wichita State University, 2015
Licensure and Certifications
R.N., Kansas
Critical Care Registered Nurse-Knowledge (CCRN-K)
Personal Statement
My goal as a nursing instructor is to prepare each student to be a caring and concerned nurse in the exciting field of healthcare.
Professional Affiliations
Courses Taught
Nurs 308 Healthcare Ethics (prelicensure and RN-BSN)
Nurs 312 Healthcare Systems, Policy and Finance (prelicensure and RN-BSN)
Nurs 400 Acute Care Nursing I - lead faculty
Nurs 402 Acute Care Nursing II
Nurs 490 Integration
Relg 100 Biblical Literature
In Addition …
What draws you to the field of nursing?
Nursing encompasses science, spirituality and the human impact. Taking care of a patient wholistically while using an evidence-based practice pulls me.
What about teaching energizes you?
I love to teach students and see the connections and understandings of evidence-based practice
How has your background and educational experience shaped you as a teacher?
I have nursing experience in medical/surgical units, critical care units, emergency department and management. These experiences have given me a vast well of knowledge that I can draw from to give examples to students.
Related Links