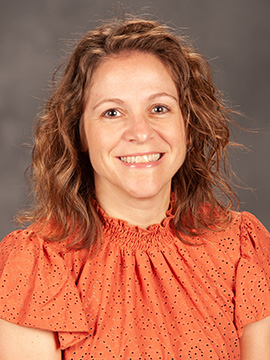 Nursing Professor
Email
joy.yoder@hesston.edu
Office
Bonnie Sowers Nursing Center
Affiliated Departments or Programs
Education
A.A., Hesston College, 1996
B.S.N., Southwestern College (Winfield, Kan.), 2001
M.S.N., Fort Hays (Kan.) State University, 2017
Licensure and Certifications
Courses Taught
Nurs 300 Nursing Foundations I
Nurs 302 Nursing Foundations II
Nursing clinical instructor: Nurs 302, Nurs 410
In Addition …
What about teaching energizes you?
Teaching allows the facilitation of learning in an environment that brings students who are in variant walks in their journeys of life. Students bring their diverse backgrounds, nursing experiences and caring attitudes that allow for rich discussions. I get the unique opportunity to learn each day, too, as students ask questions that challenge me to grow. We are given a space to allow students to critically think and practice their skills in a safe environment. There is never a dull day in teaching, and the relationships that we form with the students are a gift to each of us.
What are your favorite courses to teach and why?
I love the content in Nursing Foundations II focusing on Maternal Child Nursing. I have a background of 15 years of labor and delivery experience, and this class allows me to use that knowledge within the classroom setting. I also really enjoy the skills labs where we teach foundational skills that students will use in their clinical settings and also in practice. These small groups allow for hands on skill learning with sufficient time for practice and asking questions. Lastly, the clinical groups are a highlight for teaching. In the hospital or population based setting, we can watch the students engage with patients, their families and staff and see how the classroom theoretical knowledge ultimately merges with practice. This union is quite gratifying to discover.
Related Links