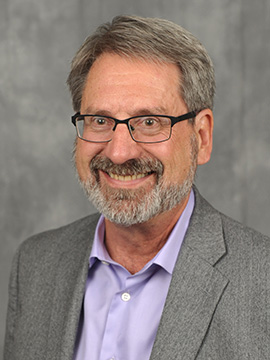 Bible and Ministry Professor
Email
john.sharp@hesston.edu
Affiliated Departments or Programs
Education
A.A., Hesston College
B.A., Goshen (Ind.) College
M.Div., Associated Mennonite Biblical Seminary, Elkhart, Ind., 2005
Personal Statement
Before coming to Hesston in 2005 to teach and to write the centennial history, Sharp was director of the Mennonite Church USA Historical Committee and Archives in Goshen, Ind., from 1995 to 2005. He is a 1973 graduate of Hesston. He holds a bachelor's degree in communication from Goshen (Ind.) College (1976), and a master of divinity degree from Associated Mennonite Biblical Seminary, Elkhart, Ind. (1983/2005). He served as assistant to the chaplain at Hesston College 1972-74, and served in church relations and admissions 1973-75.
Sharp is author of A School on the Prairie: A Centennial History of Hesston College, 1909-2009, and the forthcoming biography Orie O. Miller: Servant Leader (1892-1977). He edited the story collection Gathering at the Hearth, and is past editor of the Mennonite Historical Bulletin. For 25 years, he has taught a Road Scholar course on Amish life and culture. For the south central circuit of Osher Lifelong Learning Lectures, he has given (or is giving) the following lectures:
Buggies, Bonnets and Boundaries: A Study of Amish Faith, Life and Culture
Col. Samuel N. Wood of Kansas: Saint or Sinner?
Fables, Fact and Fiction in Telling the American Story
Kids on the Move: The Story of Orphan Trains and the Quest for New Homes
Millennial Visions, Camel Caravans and a Home in Central Asia
Sharp is married to Michele Miller Sharp, a 1974 graduate of Hesston College, now a physician assistant in family practice. They have three adult children: Erin is Executive/Program Assistant at Peer Assistance Services, Inc., Denver, Colo., M.J. (Michael) is serving in the Democratic Republic of Congo with Mennonite Central Committee, and Laura is a therapist at Prairie View, Inc., Newton, Kan.
Courses Taught
Hist 204 African American History
Hist 213 Anabaptist History and Thought
Hist 221 U.S. History I
Hist 222 U.S. History II
Hist 251 History of World Civilizations I
Hist 252 History of World Civilizations II
Relg 100 Biblical Literature
In Addition …
What draws you to the field of History?
I'm drawn by a persistent need for a frame of reference that helps me understand the past as well as the present, and for stories that illustrate and humanize that frame of reference. I'm invigorated by the need to challenge standard history textbooks that typically tell only the stories of Anglo-American leaders, their governments and their wars. The American story is much richer and more complex and includes the under-represented people groups, such as women, Native Americans, African Americans, Hispanics and others. Also significant are the stories of people who have searched for and used nonviolent alternatives. They provide models for the present and offer hope for a less violent future.
What about teaching energizes you?
I'm energized by the engaging conversations, the probing questions, and the variety of worldviews students bring to the classroom.
How has Hesston shaped you as a teacher?
Hesston faculty and staff profoundly influenced me in the way they took a personal interest in me as a student, and encouraged me to develop and use my gifts. They could see the potential even if I could not! I was given significant leadership opportunities both as a student, and as a staff person after I graduated. They provided excellent role models for student-centered education—in and out of the classroom. Now it is my privilege to try to imitate that modeling.
How will Hesston's History program challenge students academically?
Hesston's history classes will challenge students to think critically about culture and society, to place their own story in the context of the global story, and to read current events in the context of past events.
What are the advantages History students find coming to Hesston?
Students will experience vigorous study in the context of a warm, student-centered social and spiritual environment. Given the nature and size of Hesston College, students will have many opportunities to interact with faculty and staff on a personal and informal level.
Students will...
read histories that challenge and critique standard histories
learn to listen for and give voice to underrepresented people groups
gain an appreciation of the global community
collaborate with classmates on such projects as "Columbus: Hero or Villain?"
assess, synthesize and articulate core convictions to guide personal and relational ethical practices
What do high school students need to know about Hesston's learning environment?
At Hesston there is an uncommonly persistent effort to support students in achieving academic excellence. Anyone who wants to succeed and works hard surely will do well!
Related Links