Jessica Schrock-Ringenberg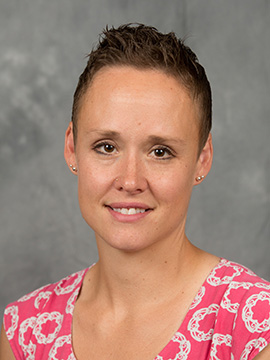 CALL Program Director
Email
jessica.schrock-ringenberg@hesston.edu
Affiliated Departments or Programs
Education
A.A., Hesston College
B.A., Goshen College
M.Div., Anabaptist Mennonite Biblical Seminary
Research interests: Missional Discipleship, Missional Church, Church Movements
Publications: blogger for TMail, The Mennonite, Conversation contributor to Respectful LGBT Conversations: Seeking Truth, Giving Love, and Modeling Christian Unity. By Harold Heie. Cascade Publishers. 2018.
Personal Statement
I am passionate about helping followers of Jesus find their particular calling in ministry and helping them discover how it fits into the fullness of the body of Christ. I firmly believe every person has a precious calling waiting to be discovered.
Professional Affiliations
In Addition …
How did you choose to study Bible and religion?
I believe the church is in the midst of a major paradigm shift much like was experienced during the Reformation 500 years ago. In this post-Christendom shift where denominations are working together in extraordinary ways unseen in the last 500 years, I believe Anabaptists will play a significant role in the story going forward. Much like the last Reformation, the resounding call in this paradigm shift is that we need to relearn Jesus - and I cannot emphasize enough that we Mennonites do too.
How has your background and educational experience shaped you as a teacher?
I have had the opportunity to train with the leading edge of discipleship movement leaders from all over the world, who believe that the biggest challenges of the church stem from a lack of intentional discipleship in the way of Jesus. At the same time as a pastor in a congregational setting for 14 years I experienced first hand the dynamic cultural shifts happening in Christianity in America, and the helplessness pastors feel in the midst (of chaos). My hope is to work to equip Church leaders so that together we may be ready for the changes that continue to happen.
Who are your role models or mentors? How have they influenced you/your life/your faith/your approach to teaching and/or your discipline?
I have been strongly influenced by Alan Hirsch and, after meeting Alan and Deb at an Ohio Conference training in 2017, they have since introduced me to some of the most brilliant minds in the Missional Church movement.
To me the most beautiful aspect of the Missional Church field is that there is such a caution against celebrity or univocal leadership as well as a strong emphasis in collaborative leadership. There is scarcely just one teacher or one voice leading a conversation. Recognizing that every person has a gift to share and something to teach has been the reason I have come to value what I have learned through all of the mentors I have since been introduced to through the 5QCollective, 100 Movements, as well through Exponential's Emerging Leaders cohort.
My goal is to train leaders who also have "the mind of Christ" and a posture to match in accordance to Philippians 2.
Related Links