An update from Sunflower Performing Arts chair Holly Swartzendruber
After a quiet 2020-21 season, Sunflower Performing Arts (formerly Hesston-Bethel Performing Arts) is excited to offer a classical guitar virtual concert by Carlos Pavan Sunday, May 16, at 2 p.m. – sign up here. The concert will be free of charge, open to the public, and will include a short welcome and sneak peak for the 2021-22 SPA season by director Holly Swartzendruber. Click on the link above and register for the Zoom concert. The registration link will also include instructions for you to use to join the concert.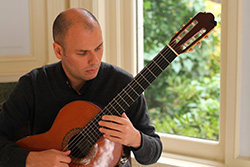 Artist biography
Carlos Pavan was born in Argentina and has been living in Brooklyn, N.Y., since 2000. Noted for his great originality by Classical Guitar Magazine, he combines tango/folk rhythms from his native country with jazz harmonies and classical techniques and forms. Pavan has studied with Jorge Morel, Dave Smey and Pablo Ziegler, and he has performed throughout the U.S. and internationally in France, Canada, Portugal, Ireland and Japan. He has recorded three albums of compositions including a collaboration with contemporary string quartet PUBLIQuartet. He offers private guitar/composition lessons and is an instructor at Noel Pointer Foundation. Pavan is also the composer/guitarist/artistic director of the Park Slope Chamber Players.
Welcome to the newly re-imagined Sunflower Performing Arts at Hesston College – formerly Hesston-Bethel Performing Arts. We are excited to continue offering the wide variety of outstanding performing arts ensembles that our south central Kansas audience has come to love and appreciate for more than 35 years. We hope you enjoy the season!
Anticipated performances in the 2021-22 season include: