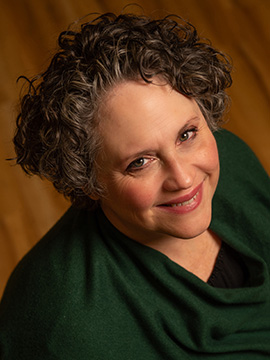 Music Professor and Director of Sunflower Performing Arts
Email
holly.swartzendruber@hesston.edu
Affiliated Departments or Programs
Education
B.A., Goshen (Ind.) College
M.M., Ohio University (Athens)
D.M.A., University of Kansas (Lawrence)
Personal Statement
One of my greatest joys as a voice teacher comes when I see and hear a student's "light bulb moment." Typically, singers need to experience something--literally feel it, to be able to recreate it again and again on their own in the practice room and on stage. I can describe something, show them a picture, or model it vocally, but until they do it themselves, the concept is just that--a concept. It's a joy to hear students take those concepts and make them into beautiful sounds.
Professional Affiliations
Courses Taught
Private Voice
Mus 204/205 Aural Skills I/II
In Addition …
Publicity photos
color
,
black and white
What draws you to the study of music?
I did not go to college intending to be a music major, but by my sophomore year I was one! I loved making music (as a soloist and in ensembles), I loved studying music theory and especially music history, I loved my profs and my fellow music students, and I had natural talent. Soon I had my bachelor's degree, and then my master's and then my doctorate. I think many people who love learning go into education. We love learning so much, we want to be part of others' learning. And, BONUS--we keep learning, too! As a performing artist, it is also my responsibility and privilege to practice my own craft. Several times a year I have performing opportunities--some requiring me to polish music I already know, and others for which I work on new music.
What about teaching energizes you?
One-on-one voice lessons are simultaneously invigorating and exhausting. Most days I get to go home a tired, but encouraged and enthusiastic teacher.
What are your favorite courses to teach?
The largest part of my job as a professor at Hesston is teaching private voice lessons. That means most of my job is doing what I love! Part of being an effective voice teacher is helping students find the balance of continually striving to improve while they also accept that the journey of a singer is winding and sometimes difficult. Another aspect of voice teaching that I enjoy is witnessing the evolution of a song and of the singer. Helping students prepare for a recital is especially delightful for me. Working with students to find and prepare their recital repertoire and then watching it come alive during the recital is a precious journey.
Related Links