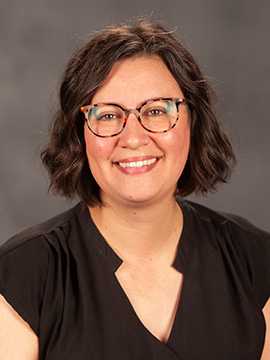 Education Professor, Intensive English Language Program
Affiliated Departments or Programs
Education
A.A., Hesston College
B.A., Doane College (Crete, Neb.)
M.A., Doane College
Personal Statement
I teach at Hesston College because I am drawn to this close-knit community where relationships are highly valued and the emphasis is on teaching all students.
Courses Taught
Engl 125 College Writing I
SCS 101 First-Year Experience
In Addition …
What about teaching energizes you?
I love finding a new angle on a subject and figuring out how to make a topic interesting and engaging. I enjoy the connections I get to make with students as they increase their knowledge, hone new skills, and wrestle with difficult ideas. It's such a reward to see the small successes that lead to the big payoff at the end.
How has your background and educational experience shaped you as a teacher?
Although I didn't originally think I would pursue a career in education, I discovered a passion for teaching while working at an elementary school during my time in Mennonite Voluntary Service. I taught English and language arts at a middle school in Lincoln, Neb., for eight years, and completed a graduate degree in education and an endorsement in English as a second language to equip me to teach and motivate struggling learners. In addition to this, I had the privilege of being a supervising teacher for student teachers and practicum students. I also worked with a team of teachers and administrators to create and implement an extended-day program, EdVenture Academy, targeting struggling students. I'm thrilled that the next phase of my teaching career is at Hesston College.
What are your favorite courses to teach?
I really enjoy teaching writing. For writing to be meaningful, students must feel like they have something to say, and I am blessed with the opportunity to take part in creating a space in which students can form ideas and voice their opinions.
Related Links