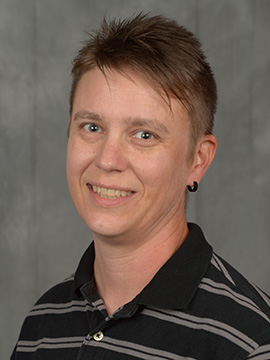 Art Professor, Regier Friesen Gallery Manager
Email
hanna.eastin@hesston.edu
Affiliated Departments or Programs
Education
B.A., Principia College, Elsah, Ill., 2000
M.F.A., Fort Hays (Kan.) State University, 2018
Personal Statement
My favorite time in each semester is the first day on the potter's wheel. It's a vulnerable thing, struggling with this machine, using leverage and strength and muscles you didn't know you had, and usually having minimal success at first. I like that view into how students work and finding ways to help them master this skill. That day also best embodies the best thing I learned in college: "Fail. Fail. Fail. And get back up every time until you don't fail. Your best ideas and work will come from being comfortable with and unafraid of failure." This is a good, safe place to wrestle with that and come back strong.
Courses Taught
Art 101 and 201 Drawing I and II
Art 102 and 202 Ceramics I and II
Art 120 3D Design
Art 121 Kinetic Art
Art 130 Art Appreciation
Art 202 Ceramics II
In Addition …
My personal art site:
Hanna Eastin blog
What draws you to the field of art?
In college, I was initially opposed to majoring in ceramics because my mother is a potter, and I and my freshman ego decided to do something else. Then, when I took Ceramics I, thinking it would be easy, I discovered that I actually loved the weight, tactility, and frustrations inherent in clay work. It was also not easy, and having been humbled, I found great satisfaction in making clay sculpture. Over the years, I've grown to love the technical aspects as well; glaze chemistry, kiln firing, even equipment repairs.
What about teaching energizes you?
I love the honor of sharing my technical and aesthetic geek-outs with students and getting them to see the magic that can happen and have geek-outs of their own.
What are your favorite courses to teach
I teach two classes currently, Ceramics I and II, and they both stand out for different reasons. My favorite thing about Ceramics I is getting to see students grow comfortable with working tactilely. I find this to be a waning aspect of many students' lives, and working hands-on is an invaluable way to connect to the world at large. My favorite thing about Ceramics II is helping students find their aesthetic "voice," and seeing the connections between who they are and how they work result in such strikingly different work.
Related Links