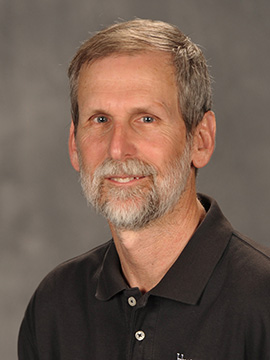 Director of Media and Instructional Technology Services, Communication faculty, Archivist
Affiliated Departments or Programs
Education
A.A., Hesston College, 1981
B.A., Goshen College, Goshen, Ind., 1986
M.S., University of North Texas, Denton, Texas, 1995
Personal Statement
I enjoy seeing the creative work my students do in their projects. Seeing students gain confidence in their skills as they create in class or do work on projects for my department is rewarding.

Courses Taught
Comm 128 Introduction to Digital Media
In Addition …
My role at Hesston College is to manage the audio/video needs for the campus which I do with the help of some excellent student workers. Another role is to help faculty to effectively use technology. Some thoughts on technology:
Technology offers no universal solution to all faculty and all disciplines, but different tools can help all faculty in some area.
"Technophobia" as well as "techno-lust" are both ditches on the side of the road that we can fall into.
Technology is ubiquitous but should not call attention to itself, both in the classroom and in the sanctuary
I love (OK, "like." I love my family and God.) the Internet and computers, but we are living in the age of excess of access. The modern "disease" of CPA (continuous partial attention) describes life with too many distracting gadgets and too many shallow relationships. As one person described modern life, "We have stopped watching the main program and are instead obsessed with the constantly moving news ticker racing across the bottom of the screen."
What's on your screen?
Related Links