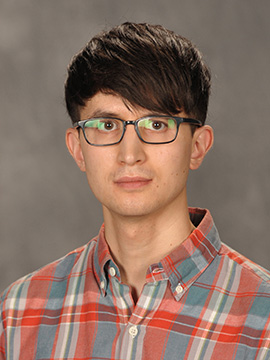 English Professor and Department Chair
Email
donovan.tann@hesston.edu
Affiliated Departments or Programs
Education
B.A., Eastern Mennonite University (Harrisonburg, Va.), 2008
Ph.D., Temple University (Philadelphia, Pa.), 2014. Dissertation: "Spaces of Religious Retreat in Seventeenth-Century English Literature."
Research interests: literature and religion, early modern religious thought, devotional writing and early modern women's writing
Personal Statement
One of the things I love most about teaching at Hesston is the fact that I can work with my students in small classes. Because Hesston students interact closely with faculty and their peers, they have access to a truly transformative education. Each semester, I challenge my students to explore new ideas and perspectives as we master essential skills for the workplace and further academic study. As a teacher, I love to see students develop a more global perspective as we investigate shared questions through reading and research.
I believe that language and literature are critical parts of education because these disciplines give voice to our experiences and lead us beyond our own limited perspectives. At its best, my teaching practice invites students to consider someone else's point of view and to find their voice in our world's broader conversations.
Professional Affiliations
Courses Taught
Engl 112 - Studies in Literature
Engl 125 - College Writing I
Engl 212 - World Literature
Engl 135 - College Writing II
Engl 217 - Literature of Race, Ethnicity and Gender
Hum 215 - Introduction to Film
SCS 101 - First-Year Seminar
In Addition …
What draws you to the field of English?
I am drawn to the field of English because it opens doors for students. On the most practical level, strong skills in writing and communication prepare people to use their intellectual gifts in almost any field or industry. English in particular invites students to recognize and master the details and nuance of language necessary for them to become effective, thoughtful communicators. I enjoy helping students to recognize that effective research involves more than gathering information—we must also learn to read generously and to think critically.
To borrow the words of Richard Wilbur, literature "calls us to the things of this world." Interacting with other people's stories asks us to consider radically different ideas and perspectives. The questions and exploration that serve as the foundation of literary study prepare students to respond to the world's challenges with intelligence, clarity, and empathy. From learning to recognize the interpretive challenges of contemporary world literature to confronting the ethical demands that representations of race and gender make on their readers, literature invites us to listen, to reconsider, and to make a difference.
How has your background and educational experience shaped you as a teacher?
During my graduate study at Temple University, I was an inaugural member of the Lilly Graduate Fellows Program. In this setting, I had the opportunity to consider the purposes of faith-related higher education and ways I can articulate the value of English studies in an interdisciplinary context. My passion for liberal arts education in particular reflects the ideas and relationships I developed as a Lilly Graduate Fellow.
What are your favorite courses to teach? Why are they favorites? What do you like about them?
One of my favorite courses to teach is Introduction to Film. Over the course of the semester, we study films from around the world and learn to interpret a medium that many of us take for granted. I love to watch students begin to recognize how filmmaking techniques and the interpretive strategies of films studies reveal the building blocks of meaning. Although every course I teach focuses on revealing meaning in the everyday world, I particularly enjoy seeing students develop their ability to think critically about how films inform, challenge, and move us.
Related Links