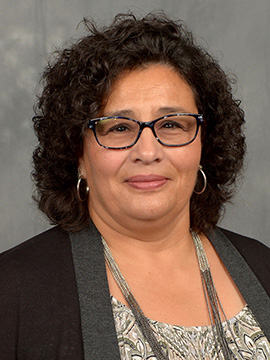 Nursing Professor
Email
diana.mitzner@hesston.edu
Affiliated Departments or Programs
Education
M.S.N.-ED, University of Phoenix, 2012
B.S.N., Southwestern College, 2005
A.D.N., Arkansas State University, 1991
Personal Statement
Teaching has been something I have always loved to do. The reason I teach is because I love to see those students who think they can't accomplish anything, succeed. I love that look on their faces when they have actually done something someone told them they couldn't do. That look is priceless! When I see the students I've taught walk across the stage at graduation to receive their diploma and nursing pin, I am so proud to know that I had a part in their learning. I'm even prouder when I see them practicing in the hospital and hear the nurses commenting what great nurses they are and how glad they are to have them. This is when I know that nursing and being a nurse educator is something I was meant to do. I truly believe both are my calling. Nursing is an extension of showing God's compassion for everyone.
In Addition …
What draws you to the field of nursing?
I have always wanted to be a nurse ever since I was a little girl. I always took care of hurt little animals, my dolls or anything that was hurt. I even enlisted in the Army Reserves right out of high school so I could pursue my career as a nurse. I have a passion for helping those in need and easing any pain they might be in. I also had the curiosity of the human body, how it functioned and wanted to know everything there was to know about it. The nursing field seemed the perfect fit for me.
What about teaching energizes you?
What energizes me most about teaching is when the student gets that "a ha" moment and the light bulb comes on and everything starts to come together for them. This is the most exciting time because they are now seeing that all that hard work and sacrifice they put into school has really been worth it. The other thing that excites me about teaching is seeing them in the nursing arena as practicing nurses and being successful and knowing I had just a little part in getting them there. This reassures me that I am doing exactly what I should be doing!
What are your favorite courses to teach? Why are they favorites?
My favorite courses to teach, whether in the classroom or in clinicals, is the critical care or trauma patients. The reason for this is because they are the type of patients that are in greatest need for the most intense care. As a nurse, you have to be on your toes and critically think at all times. As an instructor, it is our job to teach students to learn how to develop those skills competently, know what signs and symptoms to look for, to put that puzzle together, in order to make the right decisions quickly.
How has your background and education experience shaped you as a teacher?
My background as a critical care nurse has allowed me the skills and the knowledge of caring for critical patients. This experience allows me first-hand knowledge to pass on to the students, when it comes to IV drips, equipment and appropriate care.
Who are your role models or mentors? How have they influenced you/your life/your faith/your approach to teaching and/or nursing?
My role models and mentors are those nurses who took me under their wings as a new graduate and taught me how to be a critical care nurse. They taught me how to work as a team player with all health care disciplines, be a patient advocate, communicate with family and be a role model for the nursing profession. They also taught me no matter what disagreements or dislikes you may have with fellow colleagues, doctors or administrators, you still have to respect them for who they are and the title they carry. This is part of professionalism. This is what I teach my students. As for my faith, I am a firm believer of "Do unto others..." As a Christian, I believe all people should be treated equally no matter what they have done, who they are or where they come from. Before I even started nursing school and became a nurse, I was a firm believer in this. After becoming a nurse, I am a stronger believer of it and make sure students know we are treating people without prejudices. You have to have a passion to want to care for people without expecting anything in return, other than knowing you helped someone who needed you at the worst time in their life. That's what it is to be a nurse!
Related Links