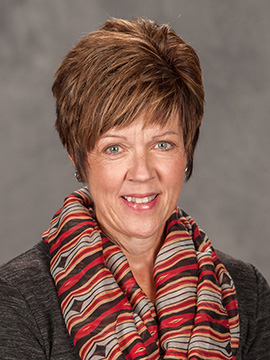 Dean of Student Success, Social Sciences Division Chair
Affiliated Departments or Programs
Education
A.A., Hesston College
B.A., Goshen (Ind.) College
M.S., Kansas State University (Manhattan)
Personal Statement
As a member of the faculty, I consider it a privilege to relate to students who teach me far more than I am able to teach them. Hesston College students frequently inspire me with their commitment, energy and willingness to serve others.
I treasure the opportunity to walk with students who face barriers on a variety of levels: a learning disability, a less than supportive home environment or under-preparedness for college study. There is nothing more exciting than sharing the moment of accomplishment with these students who were offered a chance to demonstrate their abilities in the college setting.
As a Hesston College alumna, I find it rewarding to witness the Hesston Experience recurring each year. What a pleasure to observe students growing in their faith and intellect while experiencing friendships that will last a lifetime!
Professional Affiliations
Courses Taught
SCS 080 College Reading Strategies
SCS 165 Career Development
In Addition …
What about teaching energizes you?
The day-to-day interactions with students makes it easy to come to work each morning. I love visiting with students in my office as we solve a problem or celebrate a success! In the classroom, I am challenged to create a learning atmosphere that is interactive and engaging. Faculty colleagues who model dedication to teaching as well as lifelong learning also energize me daily.
What do you most want to know about prospective students?
I find it interesting to learn what the passions are of prospective students. Often that passion leads them to a career choice that is successful and fulfilling. I am also interested in prospective students' personal success strategies from high school which may also be helpful in the college setting.
For students who are deciding on a major, what are the advantages of coming to Hesston College?
Hesston College provides a safe place to discover interests and explore how they might relate to a college major. The first semester or two at Hesston College provides students with valuable time to experience strong general education courses and begin the process of discovering who they are away from their families and home communities. Career Advising and enrolling in a Career Development class offer additional ways to walk together in this process of deciding on a major.
Personal interests/information
Married and mother of three sons. Active member of Whitestone Mennonite Church in Hesston, Kan. Enjoy reading, attending sons' sports and music activities and walking.
Related Links