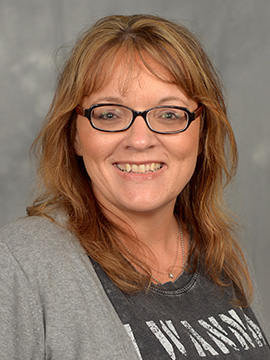 Nursing Professor
Email
dawne.taylor@hesston.edu
Office
Bonnie Sowers Nursing Center
Affiliated Departments or Programs
Education
A.A.A.S., Hesston College
B.S.N., Hesston College
M.S.N., Western Governors University
Personal Statement
I am a graduate of Hesston College. I have always had a fond love for this institution and felt it a privilege to come back and teach future nurses. I currently work at the bedside as an ICU Nurse. I love seeing students connect what is taught in the classroom to clinical experience.
Professional Affiliations
Courses Taught
Clinical faculty for med/surg and critical care
Assistant simulation instructor
In Addition …
Favorite Activity
Visiting the Beach and watching the Sunrise and Sunset from the shore.
Spending time with my little people (grandkids).
I truly love to learn and see others learn. I used to always tell my kids that it's okay to make mistakes but what will you do with what you learned? Patient care is a passion for me even with the most gruff individuals. It is a challenge to win their trust.
I look up to those that continue to teach and bring life to the classroom. Simulation is one of my favorite ways to share learning with students. They remember when we make it memorable.
We all deserve to be treated with kindness and respect and that is part of what I want to teach future nurses here at Hesston College.
One of my favorite quotes:
"I've learned that people will forget what you said, people will forget what you did, but people will never forget how you made them feel."
- Maya Angelou
Related Links