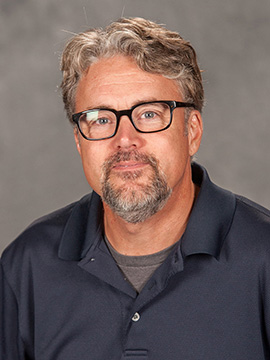 Business, Economics and English Professor
Email
david.levan@hesston.edu
Affiliated Departments or Programs
Education
Master of Arts in Economics

Wichita (Kan.) State University, 2017

Master of Business Administration

concentrations in corporate finance and investment management, University of Oklahoma (Norman) 2007

Master of Arts in English

emphasis on creative writing, University of Oklahoma (Norman) 1997

Bachelor of Arts in English Literature

College of the Holy Cross (Worcester, Mass.) 1992
Publication
"The Strain of Leadership in Oklahoma's Nonprofit Sector and What Can Be Done About It," David LeVan, Danielle S. Beu and M. Ronald Buckley. Oklahoma Business Bulletin, April 2007, Volume 75, Number 1, pp. 7-15.
Personal Statement
"I see myself as a classroom facilitator, and I believe that my role is to engage students in activities that force them into action in order to make meaning of the material covered in class. I am most successful as a teacher when I see a room full of engaged students, all focused on the task at hand."
Courses Taught
BuAc 206 Managerial Accounting I
BuAd 109 Exploring Business
BuAd 205 Business Communication
BuAd 210 Marketing
BuAd 218 Entrepreneurship
Econ 221 Principles of Macroeconomics
Econ 222 Principles of Microeconomics
Econ 261 Industrialization to Globalization: The Making of a T-shirt
Engl 125 College Writing I
IDS 100 First-Year Seminar
In Addition …
Teaching and business experience

English Teacher, Hesston High School, Hesston, Kan., August 2008 – May 2009
Business Operations Officer, Westminster School, Oklahoma City, Okla., August 2005 – July 2008
Seventh Grade Civics Teacher, Westminster School, Oklahoma City, Okla., August 1998 – July 2008
Eighth Grade English Teacher, Mayfield Middle School, Oklahoma City, Okla., August 1997 – June 1998
Graduate Teaching Assistant, University of Oklahoma, Norman, August 1995 – May 1997
Fourth Grade Teacher, St. Francis School, Gallup, N.M., August 1993 – May 1995

How will Hesston's Business program challenge students academically?
Students will be challenged to move beyond simply learning the content in the textbook. They will be asked to think critically and apply the content learned to a variety of business situations to help them understand how and why the material covered in class matters.
What are the advantages students in Business find coming to Hesston?
The Business Department has a dedicated faculty committed to helping students succeed. Instructors serve as teachers, advisors and mentors during the students' two years on campus. We get to know our students closely through the small class sizes, our role as advisors, and the ability to work with students in multiple classes throughout their time at Hesston College.
Related Links