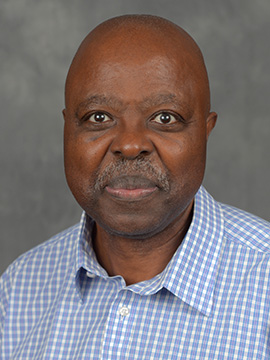 Sociology Professor
Email
dan.muhwezi@hesston.edu
Affiliated Departments or Programs
Education
B.A., public administration, Makerere Univeristy (Kampala, Uganda)
M.A., public administration, Iowa State University (Ames)
Ph.D., sociology, Iowa State University
Research interests:
Social inequality, social organization, sociology of religion
Publications:
Introduction to Sociology text (in progress)
Personal Statement
I believe students have been led to pursue higher learning at an institution where Christian values provide a foundation for learning and knowing. This belief informs the research and theoretical perspectives I use to integrate empirical data, faith and critical thinking as I engage, challenge and encourage my students to develop a sociological consciousness with which to understand society and their role in it.
Professional Affiliations
National Institute of the Teaching of Psychology
Courses Taught
Soc 202 Introduction to Cultural Anthropology
Soc 203 Introduction to Sociology
Soc 207 Sociology of families
Soc 215 Social Diversity
Soc 220 Social Psychology
PolS 121 American Government and Politics
In Addition …
What draws you to the field of sociology?
I have always been interested in understanding how social processes affect behavior and how such processes can be changed. In that regard, sociology was a natural fit for me.
What about teaching energizes you?
Teachers are uniquely positioned in crafting a window or prism through which students can explore society, develop models and be energized to develop important relationships and serve others. To me teaching is a two-way process. As I energize so also am I energized by many curious minds.
What are your favorite courses to teach? Why are they favorites?
My favorite would be Introduction to Sociology and the American Government and Politics class. Both expose the truth about society, the role of power and the importance of civic engagement.
Related Links