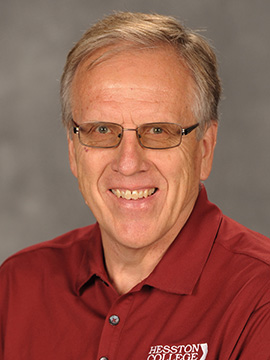 Disaster Management Professor
Email
cleo.koop@hesston.edu
Affiliated Departments or Programs
Education
B.A., Bethel College, North Newton, Kan.
M.Div., Anabaptist Mennonite Biblical Seminary, Elkhart, Ind.
Licensed pastor with Western District Conference, Mennonite Church USA
Personal Statement
I teach at Hesston because of the close connection with students in the classroom and informal activities. Building these relationships is a top priority as these young adults explore career options available to them.
Courses Taught
DMgt 105 - Introduction to Disaster Response
DMgt 110/120/210/220 - MDS Culture I/II/III/IV
DMgt 175 - MDS Summer Field Experience
Also Mennonite Disaster Service transcultural spring break trip and Service-Learning opportunities
In Addition …
Personal interests
I enjoy biking, gardening, travel and carpentry projects.
What draws you to the field of disaster management
I am drawn to Disaster Management because of a passion for serving people through Mennonite Disaster Service. I am energized working with young adults who have a passion for serving in the name of Christ. These two aspects energize and challenge me, as together the students and I grow in our understanding of God leading and guiding us through life.
What about teaching energizes you?
I am energized by teaching when the students grasp the concepts and apply them to practical situations. I enjoy seeing the students learn new skills and push themselves to better themselves.
Who are your role models or mentors? How have they influenced you/your life/your faith/your approach to teaching and/or your discipline?
As a young pastor I was mentored by Marvin Zehr, a seasoned pastor. Through these personal interactions of asking questions, exploring alternative approaches to responding to people and continually challenging myself to grow in understanding myself, I have become a better teacher and mentor for young adults.
Related Links