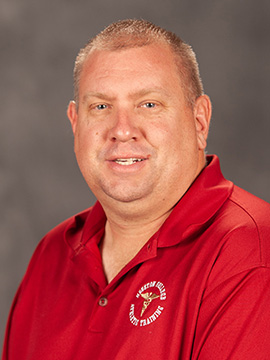 Physical Education Professor and Department Chair
Affiliated Departments or Programs
Education
A.A., liberal arts, Hesston College
B.A., physical education/health teaching with an emphasis in athletic Training, Tabor College, Hillsboro, Kan.
M.S., health and human performance, Fort Hays (Kan.) State University, 2008
Certifications
Kansas Teaching License PE/Health K-12 - 2013-present
Instructor for CPR/AED/First Aid for the Professional Rescuer - 2012-present
Instructor for CPR/AED/First Aid for the Lay Responder - 2006-present
Kansas Licensed Athletic Trainer (LAT) - 2003-present
NATA BOC certification - 2003-present
CPR/AED for the Healthcare Provider, American Red Cross - 2002-present
Personal Statement
I teach at Hesston because I want to impact students' lives. I love having the opportunity to enrich and affect change in students. I enjoy teaching students about the importance of wellness and how it impacts our lives. One of my greatest joys as an educator is helping students grow academically as well as in their faith journey.
Professional Affiliations
Courses Taught
Nutr 210 Principles of Nutrition
PhEd 115 First Aid/CPR
PhEd 131 Yoga
PhEd 141 Folk Dance
PhEd 202 Tennis
PhEd 205 Recreational Leadership
PhEd 210 Lifetime Fitness and Wellness
PhEd 211 Racquetball
PhEd 234 Backpack Camping
PhEd 262 Prevention and Care of Athletic Injuries
In Addition …
What are your favorite course to teach?
Prevention and Care of Athletic Injuries. I love to teach a course that offers real life applications which allows the student to gain the full experience. This class offers students the opportunity to learn various taping and wrapping techniques as well as basic injury prevention. It allows the student to learn in both the classroom and lab setting. This class is beneficial to a wide range of careers: exercise science, athletic training, personal training, physical education, physical therapy and coaching.
How has your background and educational experience shaped you as a teacher?
My real job experience as an educator as well as an athletic trainer has greatly shaped me as a teacher. Being able to relate to college students and be real and share my faith journey with them has been a great way for me to grow in my faith. I feel having a background in athletic training as well as education has allowed me to be a great person to advise students seeking careers in these field areas. My background of covering all these subject areas allows me to help college students make career choices based on the spiritual gifts they are blessed with.
What about teaching energizes you?
I love being able to relate real world issues to the our textbook material. I love teaching students how to be active and maintain wellness in life which promotes healthy and successful learning. I love getting students excited about their career paths and fields of study. It's encouraging to open students' minds to new ideas.
Personal interests and information
Love the outdoors and being active: golf, fishing, hunting
Favorite links
:
Howard Hustle Facebook page
Related Links