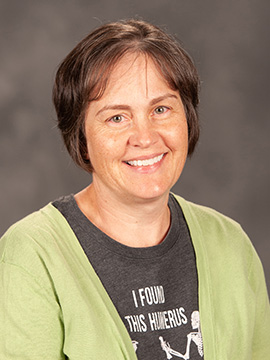 Nursing Professor
Email
cindy.lapp@hesston.edu
Office
Bonnie Sowers Nursing Center
Affiliated Departments or Programs
Education
A.A., Hesston College, 1989
B.S.N., University of Phoenix (Phoenix, Ariz.), 2016
M.S.N., Tabor College (Wichita, Kan.), 2018
Personal Statement
I believe that learning is an ongoing process evidenced by new ways of acting, thinking, knowing and being. My goal as a teacher is to share my excitement for nursing and for learning, to motivate and encourage those around me and to make a positive impact on the lives of others.
Courses Taught
Nurs 410 - Population-Based Nursing (classroom and clinical instruction)
Nurs 490 - Integration Seminar (classroom instruction)
In Addition …
What about teaching energizes you?
Teaching, like nursing, provides an opportunity for ongoing learning. I love that a personal excitement for learning, combined with a caring nature and a desire to connect with others, can – through teaching – influence steps toward continual improvement (for self and others).
How has your background and education experience shaped you as a teacher?
My first staff nurse position (in organ transplant) is where I truly began learning – incorporating foundational knowledge/theory with clinical skills by working alongside experienced nurses who modeled the value of intuition and critical thinking. Transition to other clinical realms also hinged on mentoring relationships that helped to facilitate learning, build confidence and motivate me toward further study.
Who are your role models or mentors? How have they influenced you/your life/your faith/ your approach to teaching and/or nursing?
I have been blessed with role models who inspire me to love unconditionally, to pray persistently, to strive for continual improvement as opposed to perfection, to remain curious, to invest in others and to press into the hard things - always looking for blessings within the challenges.
Related Links