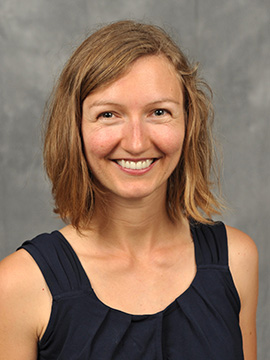 Mathematics Professor
Email
christine.millerhesed@hesston.edu
Affiliated Departments or Programs
Education
B.A., biology, minor in environmental science, Goshen (Ind.) College
M.S., sustainable development and conservation biology, University of Maryland (College Park)
Ph.D., anthropology, University of Maryland
Research interests
Environmental anthropology
Environmental justice
Climate change adaptation and resilience
Publications
2017. Miller Hesed, Christine D. and David M. Ostergren. Promoting Climate Justice in High Income Countries: Lessons from African American Communities on the Chesapeake Bay. Climatic Change 143: 185–200.
2017. Miller Hesed, Christine D. Responding to Climate Change: Local Knowledge in African American Communities on Maryland's Eastern Shore. In Socialism in Process: Ecology and Politics Toward a Sustainable Future. Justin Heinzekehr and Philip Clayton, eds. Pp. 181-203. Claremont, CA: Process Century Press.
2016. Miller Hesed, Christine D. Integrating Environmental Justice and Social-Ecological System Resilience for Successful Adaptation to Climate Change: Lessons from African American Communities on the Eastern Shore of the Chesapeake Bay. Dissertation for Doctor of Philosophy in Anthropology, University of Maryland – College Park.
2015. Miller Hesed, Christine D. and Michael Paolisso. Cultural knowledge and local vulnerability in African American communities. Nature Climate Change 5(7): 683-687.
2013. Miller Hesed, Christine D. The New Holy Wars: Economic Religion vs. Environmental Religion in Contemporary America. Review of Social Economy 71(1): 123–126.
2012. Miller Hesed, Christine D. A Response to Jerstad: Overlooked Strengths of an Anthropology of Climate Change. Imponderabilia 4: 59–61.
2010. Miller Hesed, Christine D. The Influence of Christianity on Environmental Attitudes. Scholarly Paper for Master of Science in Sustainable Development and Conservation Biology, University of Maryland – College Park.
Personal Statement
One of my greatest joys as a teacher is getting to witness that "aha!" moment when a difficult concept at last becomes clear. I first became interested in teaching when I was part of a calculus study group in high school. Because I thought math was fun, I often had my homework completed prior to our study group meetings. This left me free to help my friends with their homework. I found it so rewarding to be able to tutor my peers and watch their knowledge progress. I have loved teaching ever since.
Courses Taught
MaSc 105 College Algebra (3 hours)
MaSc 210 Elementary Statistics (3 hours)
In Addition …
What draws you to the field of mathematics?
I have always loved math! As a perfectionist, I appreciate that with math you can solve a problem for the exact right answer. I also like how math is so versatile and can be applied to any problem. Most recently, I have used math to approximate the level of agreement within and between groups on issues of climate change. How cool is that?!
What about teaching energizes you?
I get most energized from teaching when students get excited about a topic and want to know even more about it than what I had planned to cover. This often leads to good discussions in which I get to learn something new too! It is fun to be able to go into more depth on a topic that students find particularly interesting and relevant.
Who are your role models or mentors? How have they influenced you/your life/your faith/your approach to teaching and/or your discipline?
When I think about my teaching role models, I think first of my professor, adviser, mentor and friend at Goshen College – Jody Saylor. Jody was a role model to me in many ways: she demonstrated how to hold faith and science together, how to be a mom and a professor, and how to teach in an engaging way. Because of her example, I have felt that I too could be a woman who teaches in math and science, and I hope that I might in turn inspire other young women to do likewise.
Related Links