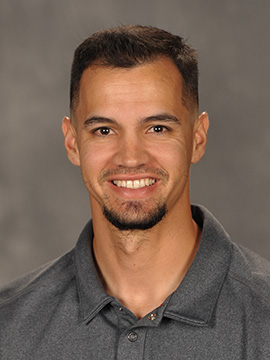 Communication Professor, Baseball Assistant Coach
Email
chase.glaum@hesston.edu
Affiliated Departments or Programs
Education
B.A., Southern Nazarene University (Bethany, Okla.)
M.S., California University of Pennsylvania
Professional Affiliations
In Addition …
What about teaching energizes you?
The interaction with the students.
What are your favorite courses to teach?
My favorite courses that I have taught were the Public Speaking courses. I had the privilege to watch students embrace getting out of their comfort zone and take initiative on their learning experience. Public Speaking is a course that as a teacher you can easily see the students learning and applying these skills. Although I don't teach Public Speaking anymore, I have great memories of those classes.
How has your background and educational experience shaped you as a teacher?
I have had great professors that made a huge influence on me as a person. I hope I can have the same impact on the students that I encounter.
Related Links