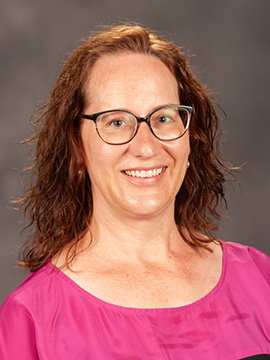 Director of the Intensive English Program
Email
chandra.johnson@hesston.edu
Office
Alliman Administration Center
Affiliated Departments or Programs
Education
B.A., Tabor College (Hillsboro, Kan.)
M.A., TESOL, Fresno (Calif.) Pacific University
Personal Statement
Helping students achieve their English language learning goals is rewarding for me, but honestly, I love learning from my students. It's the not-so-secret benefit of teaching students from a variety of cultural backgrounds. My life is richer.
Professional Affiliations
In Addition …
How did you choose to study English?
In college, I struggled with knowing what major to choose. I went back and forth between different ideas before deciding to be an English major. I knew in college that I didn't want to be a teacher, but then my friend encouraged me to travel to South Korea for a year to teach English. I found out that teaching wasn't so bad! I didn't know then that my decision would lead me to my career.
What about teaching energizes you?
When I see students really work hard, I am encouraged. I remember teaching a student once who had grown up speaking Spanish in the Central Valley of California. He was the first person in his family to go to college. In my reading class, he read
To Kill a Mockingbird
. He told me that this was the first book he had ever completely read and that he learned so much about himself in the process. I was so proud of him for his persistence in reading the novel, especially since he was working a full-time job and had a family.
How has your background and educational experience shaped you as a teacher?
I grew up in a small town that wasn't very diverse. I went to college in another small town, but while I was there, I decided to go on the January term trip to Europe. Traveling changed my perspective, and I saw that my way of doing things wasn't the only way. I love that Hesston College has such a diverse student body, so that students who come from small towns can be exposed to different cultures. Also, students who have grown up in large cities can benefit from learning about small town life in Kansas.
Related Links