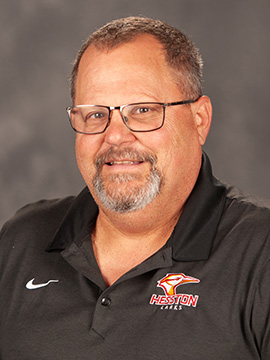 Athletic Director
Phone
574-312-5198 (mobile)
Affiliated Departments or Programs
Education
B.S., Physical Education and Family Life Education, Goshen (Ind.) College, 1982
M.S., Physical Education, Emporia (Kan.) State University, 2015
National license from the National Soccer Coaches Association of America, 1999
Personal Statement
It is always a great joy in teaching when what you teach in class becomes a reality in someone's life. In sports these become moments of beauty within the game (for example, when you score on a header on a corner kick). I recently had a moment when a student who took Fitness Concepts class in my first year at Hesston College told me about the improvements they had made in improving their health.
Professional Affiliations
Courses Taught
PhEd 113 Introduction to Weight Training
PhEd 120 Weight Training
PhEd 210 Lifetime Fitness and Wellness
PhEd 211 Racquetball
PhEd 228W Varsity Women's Soccer
In Addition …
What is your favorite course to teach?
I love to play racquetball, so teaching the course is a lot of fun.
How has your background and educational experience shaped you as a teacher?
When I graduated from college I entered voluntary service in inner city San Antonio. After VS I taught school in San Antonio for seven years. At a school with 1,000 students we had an equipment budget for physical education of $200 per year and no gymnasium. Teaching was a challenge, but the students were also a source of great joy. It has made me appreciate the opportunities that are given to me, and to the students at Hesston College.
Who are your role models or mentors? How have they influenced you?
My high school coach (baseball, soccer and basketball), Dan Bodiker, served as a great role model for me and many other young athletes in high school. He was a calm coach who, I believe, helped me develop as a player. With increased specialization, the days of coaching three sports is perhaps past. I also appreciated my college baseball coach, Harold "Sarge" Yoder. I was an athlete with marginal athletic ability, but he encouraged my development and gave me the opportunity to succeed.
Related Links