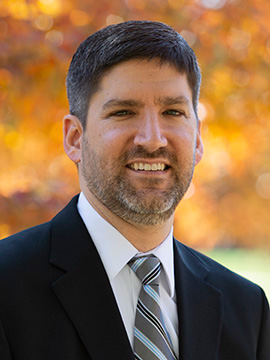 Vice President of Academics
Email
brent.yoder@hesston.edu
Office
Alliman Administration Center
Affiliated Departments or Programs
Education
A.A., Hesston College, 1998
B.S., Eastern Mennonite University (Harrisonburg, Va.), 2000
Ph.D., Virginia Polytechnic and State University (Blacksburg), 2005
In Addition …
Brent Yoder serves as the vice president of academics, a position he has held since 2014. Prior to that, he was the college's registrar, and, previously, assistant professor of chemistry at both Illinois College and Greenville College in Illinois. He earned a Ph.D. in organic chemistry, as well as a Future Professoriate Graduate Certificate, at Virginia Tech after completing undergraduate degrees at Hesston College and Eastern Mennonite University. Although his formal education is in chemistry and business administration, he is a lifelong learner and enjoys studying religion, music, theatre, nutrition, psychology, economics and more.
Brent has been attending the Kansas Leadership Center once or twice a year for the past five years and was one of the first ten individuals to complete the Your Leadership Edge online program. In January 2018, he completed the Level II Leadership Certificate from KLC in the area of teaching leadership, and he now teaches the Adaptive Challenges in Leadership course sequence for Hesston students. Beyond Hesston College, he has worked to apply those principles as treasurer for the Kansas Association of Collegiate Registrars and Admissions Officers, board member for Hesston Community Child Care Center and member of the Hesston Public Schools Parent Advisory Council.
Brent lives in Hesston with his wife, Rachel, and three daughters - Caroline, Natalie and Olivia. They are active members of Hesston Mennonite Church. Brent has lived in six different states, and although it is more challenging now as a family of five, he still loves to travel and has visited 46 of the 50 states and a total of 17 different countries around the world. He also loves hiking, even though there are fewer opportunities to do so in Kansas. While at home, he enjoys singing, acting, reading, streaming, cooking, biking with his family and eating copious quantities of chips and salsa.
Related Links