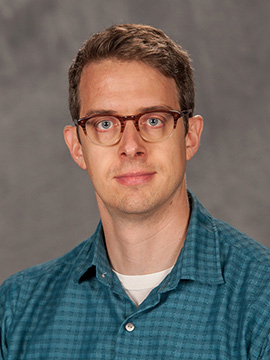 English Professor, Director of Intercultural Programs
Email
andre.swartley@hesston.edu
Affiliated Departments or Programs
Education
A.A., Hesston College, 1999
B.A., Goshen (Ind.) College, 2002
M.A., Bowling Green (Ohio) State University, 2012 graduate certificate of Teaching English to Speakers of Other Languages
Research interests:
creative writing
world languages
linguistics
acupressure
Publications:
Fiction
The Wretched Afterlife of Odetta Koop (Workplay Publishing, 2015)
Leon Martin and the Fantasy Girl (Workplay Publishing, 2012) -First-Place Category Winner, 2013 Dante Rossetti Awards for Young Adult Lit
Americanus Rex (Workplay Publishing, 2009) -Fiction Finalist, 2010 Next Generation Indie Book Awards
The Island of Misfit Toys (Bound to Excel, 2005) -Fiction Finalist, 2006 Best Books of Indiana
Nonfiction/Academic
Building a School of One by Jim Kirkton and Phil Lederach (Practitioner Publishing, 2005)
LACUS Forum XXXVIII: "Service-learning and Oroha language preservation: A combination that worked."
Freelance
Copy writer for Macy's department store (through RR Donnelly content providers)
Game reviewer for GameObserver.com and GamerU.com
Columnist/feature writer for The Bluffton Icon
Personal Statement
A liberal arts education provides a guided balance between nurturing strengths and expanding interests, cultural awareness and empathy.
Professional Affiliations
Courses Taught
Comm 206 - Speech Communication
Engl 102 - ESL:Intermediate Listening/Speaking
Engl 103 - ESL:Intermediate Grammar
Engl 104 - Integrated Language Arts
Engl 105 - ESL:Advanced Listening/Speaking
Engl 106 - ESL:Advanced Reading/Vocabulary
Engl 112 - Studies in Literature
Engl 125 - College Writing I
Engl 220 - Creative Writing
Japn 197 - Topics: Introduction to Japanese Language and Culture
SCS 101 - First-Year Seminar
In Addition …
Favorite links:
giantbomb.com
wanikani.com
Websites:
andreswartley.com
workplaypublishing.com
What draws you to the field of English and language?
I can't stop learning new languages. I've studied — with varying success — German, Russian, Spanish and Japanese, and the thrill never dies. I also love being part of my students' processes of discovery and mastery of language skills that enable them to succeed academically and socially in an English-speaking college environment.
What about teaching energizes you?
Teaching requires constant observation, adaption and collaboration with the students in a class. Working with students toward any learning goal keeps the mind nimble and the spirit empathetic and kind.
How has your background and educational experience shaped you as a teacher?
I have taught English in four countries at every level from pre-school to university and adult learners. Such a broad experience has forced me to realize, over and over, the importance of finding commonalities upon which to base future lessons and interactions. Food, for example. Every student I've ever taught has loved to talk about the food in their home countries, and I always want to hear what they have to say.
Related Links