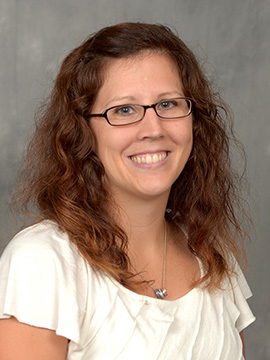 Nursing Professor
Email
amy.hulse@hesston.edu
Affiliated Departments or Programs
Education
A.S., Hutchinson (Kan.) Community College, 2007
B.S.N., Bethel College (North Newton, Kan.), 2009
in progress- M.S.N. - Walden University (Minneapolis, Minn.)(anticipated completion May 2018)
Personal Statement
Being a part of the professional and compassionate nursing faculty at Hesston College, I am helping prepare students to be successful in their area of practice as well as leaders in delivering high quality patient care.
Courses Taught
Nurs 406: Healthcare Informatics, Quality and Safety
In Addition …
What draws you to the field of nursing?
I enjoy being able to connect with patients and not only hear about their life stories but witness the way patient factors manipulate the body's reaction to diseases and conditions. I also love that the field of nursing is not contained in a box. A nurse can be found in most, if not all, professional settings.
What about teaching energizes you?
I am excited to guide students in transitioning from knowing information to applying it in the appropriate setting.
How has your background and education experience shaped you as a teacher?
My nursing experience is in med/surg, skilled and long term care, and quality. The knowledge I gained from the various settings has helped to shape me as a teacher. I also did not grow up in a household of healthcare professionals, so during my education and training, I would share what I was learning with my family. Looking back, although I did not know it at the time, it helped develop and shape the skills needed to be a successful nurse and teacher.
Related Links