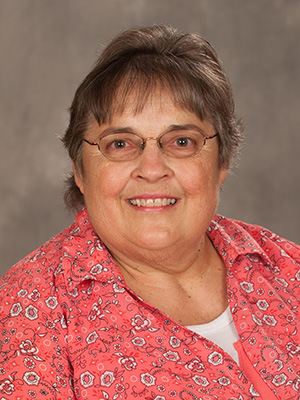 Affiliated Departments or Programs
Education
A.A., Hesston College, 1973
B.S.N., Eastern Mennonite College, Harrisonburg, Va., 1975
M.N., Wichita (Kan.) State University, 1982
Personal Statement
I teach at Hesston College because it has been a calling for me. Nursing is a ministry and mission I love and teaching is my way of encouraging this art of caring to others. I love teaching and seeing a student's eyes widen and light up when some new connections are understood.
Courses Taught
Medical – Surgical Nursing in both Nursing 3 and Nursing 4
Spirituality in Nursing portion of the Biblical Literature class with Nursing focus
In Addition …
Personal interests/information
My husband, daughter and son-in-law farm in the area surrounding Hesston. During the summer I help out in this operation in ways I can. I also love to keep up our farmstead with mowing and working in my flower beds in the summer.
Another special interest for me is to help out in our church community. Over the years I have served in many different positions. Currently my main role is to do hospital visitation.
What draws you to teaching nursing?
Even as a small child, I dreamed about being a nurse and also a teacher, but didn't know which I wanted most. My interests just naturally lead me to pursue nursing as a college student. I have loved caring for my patients and their families as a nurse. I also loved working with nursing students when they came to the hospital setting. The opportunity arose for teaching nursing, and now I've been here at Hesston College since 1990 doing just that, which is fulfilling that second part of my dream.
How has your background and educational experience shaped you as a teacher?
My bachelor's degree in nursing allowed me many opportunities in the field of nursing. I have worked in smaller hospitals where I helped staff everything from the emergency room to labor and delivery to critical care. All of these work experiences have enhanced my teaching as I share real things I have seen as I address the students.
Who are your role models and how have they influenced your faith and discipline?
I greatly value the more experienced nurses I have worked with and things I have learned from their practice in nursing. For my spirituality, I have learned many things from more seasoned spiritual leaders. Overall for my life, I find great inspiration from Jesus Christ, Helen Keller and Joni Eareckson Tada. I am so blessed with all that God has given me and I treasure those gifts. It is my belief that each individual living on this earth is a precious creation of God that I want to recognize and treasure. This belief is also something I share with my students, whether in Biblical Literature or in nursing classes.
Related Links