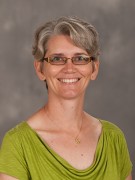 Nursing faculty
Email:
rita.peters@hesston.edu
Office Location:
Charles Hall (C-22)
Affiliated Departments or Programs
Educational Background
B.S.N., Goshen (Ind.) College, 1992
M.S.N., University of Minnesota, Minneapolis, Minn., 2001
Personal Statement
"My goal as an instructor is to learn as much from my students
and their questions as they learn from me. Each clinical day
is exciting and filled with opportunity to learn from each other."
Courses Taught
Nursing fundamentals
Medical/surgical nursing
Campus skills laboratory instruction and clinical instruction for
Nursing I and Nursing IV
Course coordinator for Nursing Pharmacology II, III, and IV