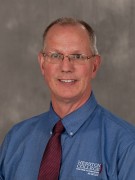 Aviation Operations Manager
Email:
richard.binkley@hesston.edu
Office Location:
Newton City-County Airport
Affiliated Departments or Programs
Educational Background
B.S., University of North Carolina (Chapel Hill), 1984
M.A.S., Embry-Riddle Aeronautical University Worldwide (Atlanta, Ga.), 2012
Personal Statement
When I came to Hesston College, I found a community of bright, enthusiastic people who are totally committed to teaching and inspiring young people. The feeling on campus is that of an extended family, where faculty can connect with students on a personal as well as an academic level.
I wish that I had known that there were schools like this when I was a high school senior. I would have loved to have an opportunity to study aviation while interacting with such a close-knit, welcoming community. I envy our students for having that opportunity that I missed, but I am happy to help them pursue their dreams. It is exciting to see the potential in each student and to imagine the adventures that lie ahead for each of them. Aviation is an incredible career field, and I feel privileged to have an opportunity to help aspiring pilots get their start at Hesston College.
Professional Affiliations